---

Point Guards & Self Guarding Switch Frogs
by Dave Verzi
This series of photographs illustrates two hazards we may encounter on our motorcar excursions.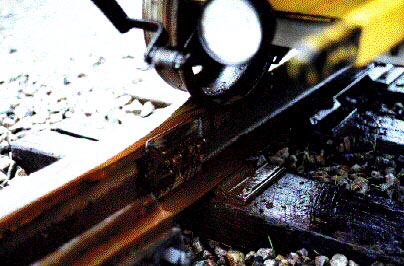 Bolt-on point guards are titanium blocks that bolt through the rail, just ahead of where the switch point meets the rail, illustrated in the above photo. Point guards are designed to take the impact of the wheel strike, rather than the switch point, minimizing damage and wear to the point. As you can tell, these could cause a bit of a jolt to our motorcars. Another primitive type of point guard is simply a bead of weld applied to the rail head. Fortunately these guards are usually only seen in yard and industrial trackage where motorcars will generally be traveling at a restricted speed.
Self guarding switch frogs are common in yard and industrial trackage, however their use is also common on branch lines.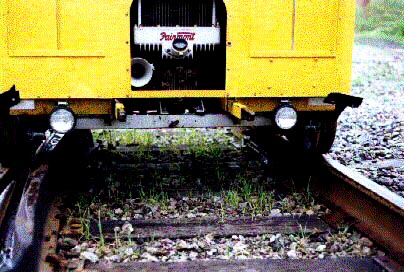 As illustrated in the above switch point photo, the wheel on the right has no guard rail to hold the wheel on the rail as the motorcar travels through the self guarded frog. Next, look at the wheel on the left of the photo. See how easily it would be for the wheel to pick the point? Thereby allowing the motorcar to travel the straight route through the switch, rather then the diverging route, depositing the car within the gauge of the rail.
The last photos at the bottom show Fred Furmingers' car traveling through a conventional switch frog, illustrating the guard rail (at the right in the photos) which keeps our cars on the rails when traveling through switches.
Note that self-guarded frogs are most hazardous to motorcar travel when the motorcar is approaching a switch toward the points, and the switch is lined for the diverging route (as in the second switch photo). Motorcars should be walked through, or travel at a walking pace through this type of switch alignment with a self guarded frog.
Traveling away from the points on a straight alignment presents minimal derailment risk to our motorcars operating through switches (as in the photo below).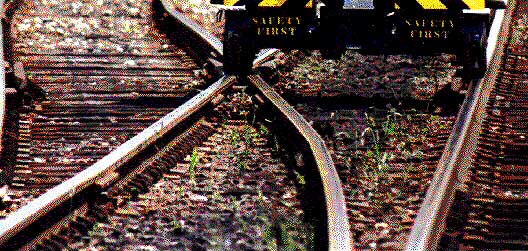 ---