Advertising on this page is for NARCOA members only. Ads must be for motorcar related items - no general railroadiana. NARCOA members must email full name, the location of the advertised equipment and a description to: webmaster@narcoa.org. One picture per ad in .jpg format. Do not use all CAPITAL LETTERS or all lower case. Capitalize and punctuate properly, as ads are cut & pasted. Ads are posted for 180 days. Please send ads as email text and not as a word processor file.
If you advertise on this page, you will receive offers from scammers. Click Here to find out how they operate.
"One of a Kind" Items are here. Items available in quantity are on the
"Motorcar Parts & Accessories" page
CLICK HERE to continue to the Motorcar Parts & Accessories Page.
FOR SALE (May 19) CO - Pushcart/road trailer Was a railroad track geometry car. Has new road tires on it. Once you set on the track, the wheels unbolt and lift up, and tongue comes out. Would need to make a tow bar set up to be towed. Has two very nice 14" rubber tread wheels. The other two got stolen. Think it would be a great start for a mower. Or thought about putting a light weight m car on it. Unload the car then you would have a push cart for tools. May have to beef up the spring a bit, Maybe not. I could sale the trailer without the wheel for $500, if you had some 14" pressed wheels to run. Would roll easier with steel wheels. I have a set of 14" cast wheels for $300. Would last forever, but are heavy, No title, think for about$150, I can get one. Maybe less for the title with out plates. Brian Delaplaine Frederick, Colorado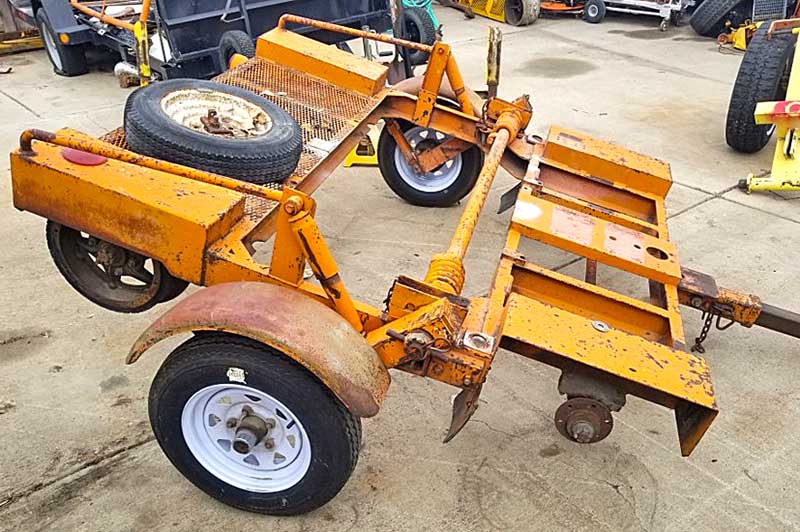 FOR SALE (May 16) KS - MT-14 fully restored with a hydraulic turntable and comes with a set of narrow gauge axles and wheels. Car is fully restored and is in mint condition $13,500.00 Rick Nation, Kansas (913) 579-6990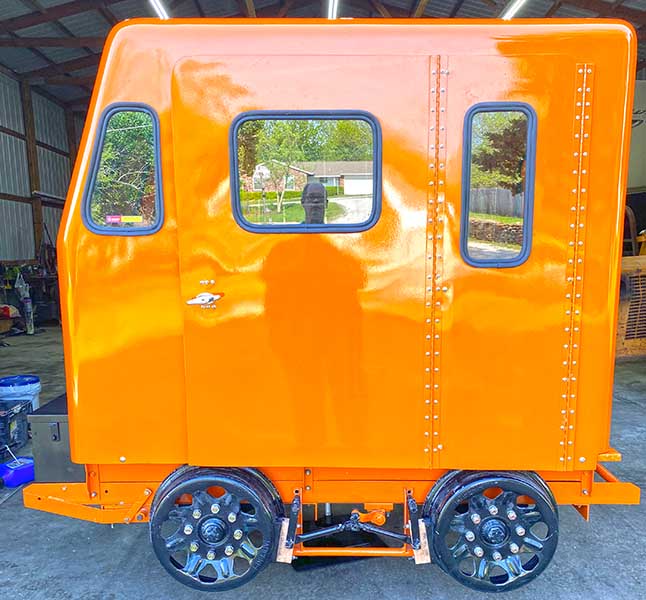 FOR SALE (May 9) IN - Kalamazoo 560N Motorcar. Rare and unusual, this is a great candidate for restoration. Complete with Onan two cylinder engine, Fairmont two speed transmission. 14" wheels appear to be in decent condition. Car number 01FD67. Asking $1,200. David Staggs, 812 545 9684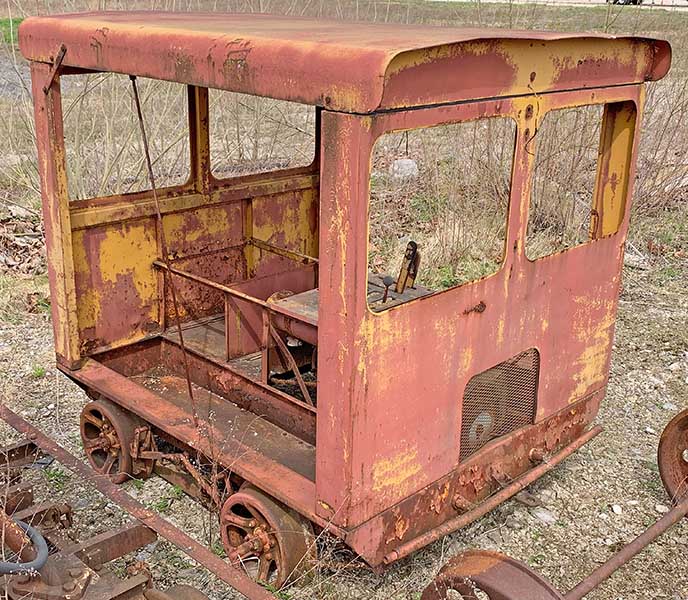 FOR SALE (May 3) NH - Fairbanks-Morse 101. Very rare Fairbanks-Morse open rail car. Always stored inside. Friction disk drive gives infinite speeds forward and reverse (detents in selector handle locks transmission in 4 forward and 3 reverse selections) with chain drive to rear axle. Easily removed golf cart top with fabric side panels if you like to ride in the open air. Engine has been replaced with a four cycle electric start Honda 13HP, however a rebuilt 2-cycle Fairbanks Morse 101 crank start engine, mounted on a rolling cart, is included in the sale. LED head and tail lights, 12 volt alternator and battery. Wheels are good and brakes were new last year. Lots of spare F-M parts including gas tank, friction drive, transmission shaft, condenser, water jacket, brake shaft, clutch handle, coil boxes, carburetors, two wheels, and body panels. NARCOA compliant if you provide the first aid kit and flashlight. Electric turntable installed but manual lifting works better. $5,000. Custom designed speeder trailer with winch and electric brakes $1,000 but only with speeder sale. Contact Norm Yeaton 603-731-8113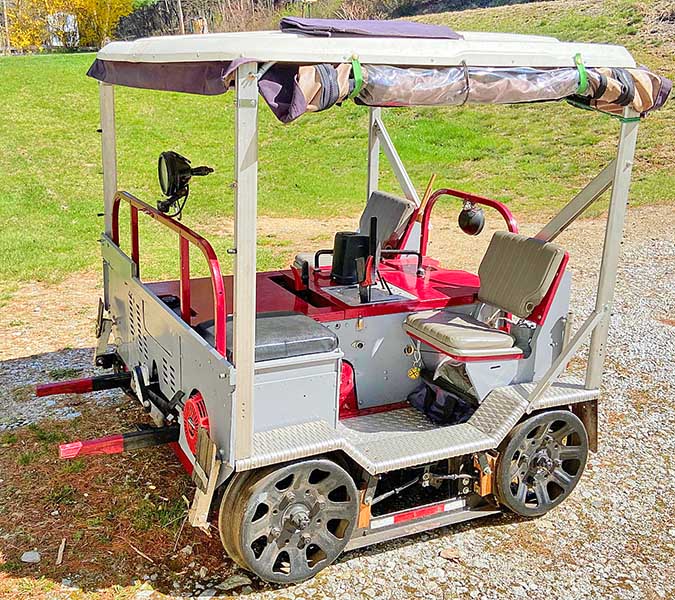 FOR SALE (May 3) CO - Fairmont, 1956 M9-G-2. ICC RR. Rubber rear wheels and flange brakes. New flange brakes shoes. 1945 ROB engine, #72966. Turns freely. Birth records of both car and engine included. DX Ignition. Engine crank. Extra coils and coil tester. New metal toolbox. Extra Fairmont seat brackets. No trailer Not NARCOA compliant. $3,000 or best offer. Gus Mocilac, Canon City, Colorado.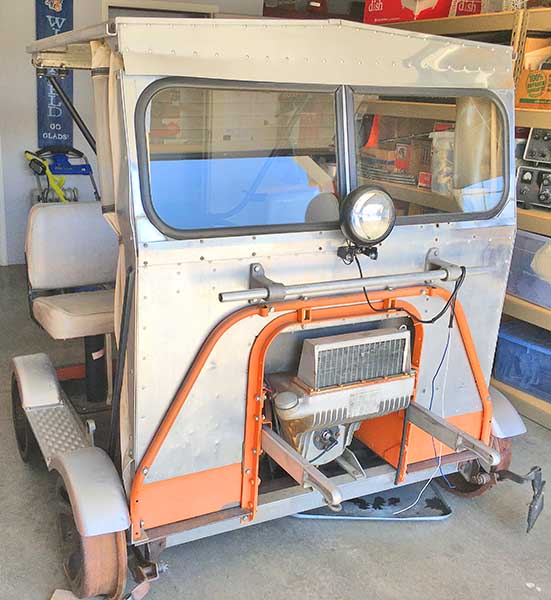 FOR SALE (Apr 18) ON - MT19 with new wheels, Les King turntable and embroidered seats with seat belts. Les King side windows that open with screens. Electric fuel pump, modified exhaust manifold. Yaseu FT2800M radio and an Intercom with two Dave Clark headsets. Portable electric winch for loading the MT19. Custom built open trailer with truck tires. Spare Fairmont motor that I have used and is in decent condition. Was custom painted by a local boat builder 7 years ago. Will deliver to Buffalo NY or Detroit Mich free. For mileage and a fee will deliver anywhere. Many more photos are available. Located in Waubaushene Ont. 90 minutes north of Toronto, Ont, Asking $10,000 USA funds, John Brown 1-705-538-1196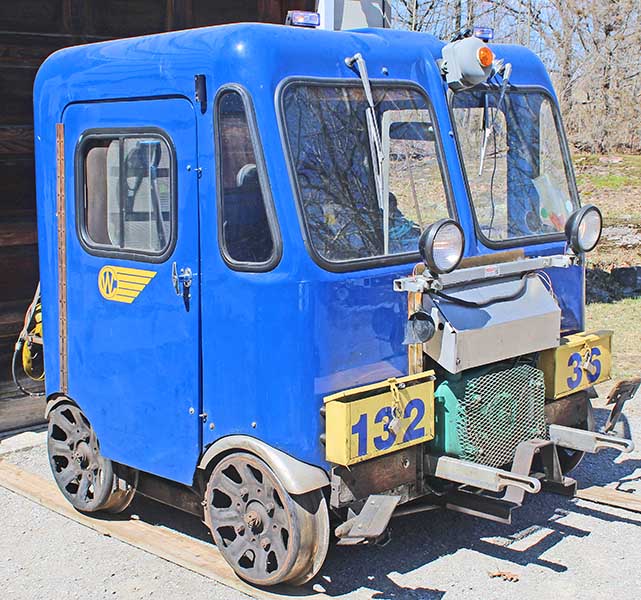 FOR SALE (Apr 10) WI - 1967 Fairmont MT-19. I bought it in 2014 and had the engine rebuilt. It has new exhaust headers, exhaust pipe and muffler with spark arrestor, new 6 gallon fuel tank new electric fuel pump, new drive chain, new lights, new wiring, new wheels, new brakes, new side curtains and seat cushions. It has a two way radio, first aid kit, two flagging kits and tow bar. $7.900 located in Oshkosh, Wisconsin. Call or text Paul O'Connor at (920) 216-2308.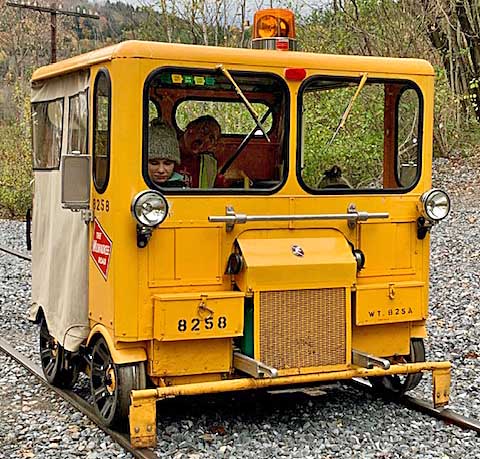 FOR SALE (Apr 7) CA - 1947 Fairmont A -7 Gang Car 40 HP Waukesha XAH engine. Used by the Northern Pacific Railroad to maintain the Bozeman tunnel in Montana. Factory turntable, factory vacuum brakes, cast wheels. Complete restoration in 1999 added front, back and roof. The rear tunnel was replaced with bench seating that accommodates operator plus seven passengers.Full side curtains, rear trunk for storage. Only 39 of this type motorcar were produced. Believe to be one of only 2 survivors. A 2 axle enclosed trailer is available and will be sold separately. $17,500, Glen Ford, Rough and Ready, CA 530-913-2386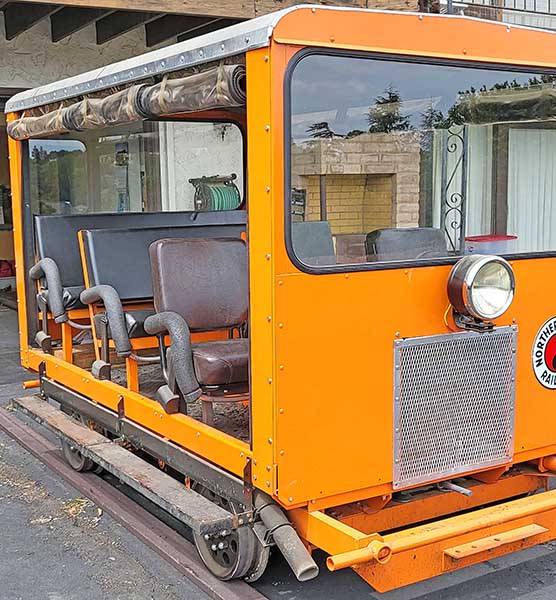 ---
FOR SALE (Apr 1) WA - Fairmont MT 19 with rare Les King Cab. Very nice motorcar with many extras including a custom-built, tilt trailer. Locomotive horn and bell. Overhead luggage rack. Motorola Astro Radio with David Clark interface and headphones. Also, two Motorola handheld radios. Nicely appointed interior including extra safety grab handles, sliding windows, and sound insulation. Many extra parts and tools too numerous to list here. I am helping sell this motorcar for the owner. $10,000. For additional information, please contact Roger Farrell 509-334-7999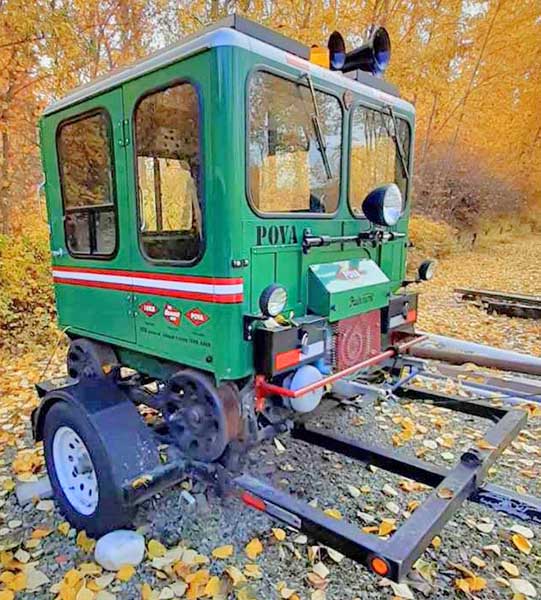 ---
FOR SALE (Mar 24) QE - CN MT-19 with Onan engine. NARCOA compliant lights, horn, brakes, gas tank etc. It is a Canadian car with double chain that has been replaced. It comes with brand new seats, gas tank and a lot more brand new pieces as the speeder is currently under restoration. Lot of spare part too (brake pad, wheel, doors, etc). It comes with a trailer custom made for this speeder. All original papers of the speeder included. Stored out of weather. Located in Quebec city. Delivery possible directly to your home anywhere in the province of Quebec. Do not hesitate for any question. André-Pierre Savard: (514) 975-1000. Asking $3,000.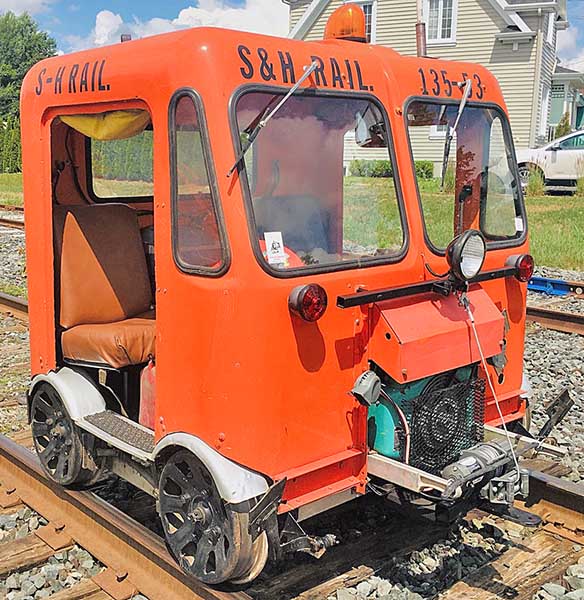 ---
FOR SALE (Feb 23) NY - 1957 Fairmont M-19 originally Wabash car. ROC .10 over, dx ignition, back up ignition installed. LED lights, custom curtains by Amish. NARCOA compliant, ready to run. Rear pivot wheel. Reliable runner. $4,200. Call 607-244-1596 Dan Lowe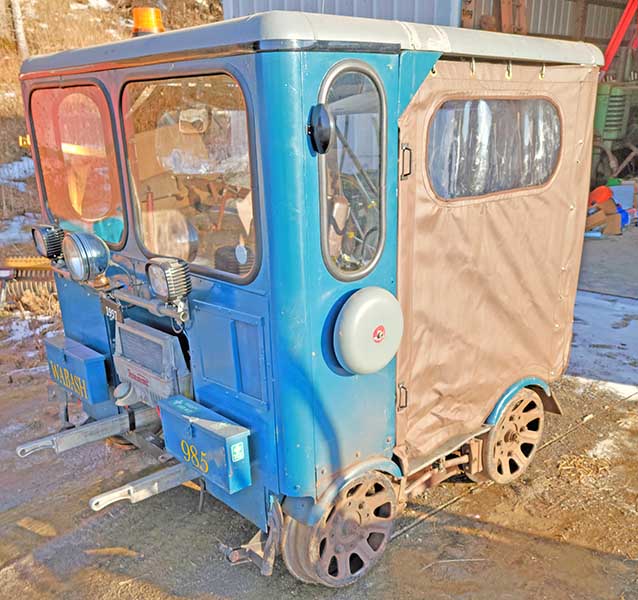 ---
FOR SALE (Feb 16) GA - Fairmont A-3 (1954) NARCOA Compliant, runs well. 5 passenger seats; Waukesha ICK 4 cylinder engine; 4 speed transmission with reversing rear axle; Aluminum cargo carrier; Tractor jack; Manual hydraulic turntable (converted 3 ton floor jack) Motorola Radio with NARCOA & AAR Railroad frequencies programmed; Air Horns; Intecom system with 5headsets LED head/ditch lights; Side curtains $7,000. For additional information and/or pictures call 404-202-7881 Julie Cook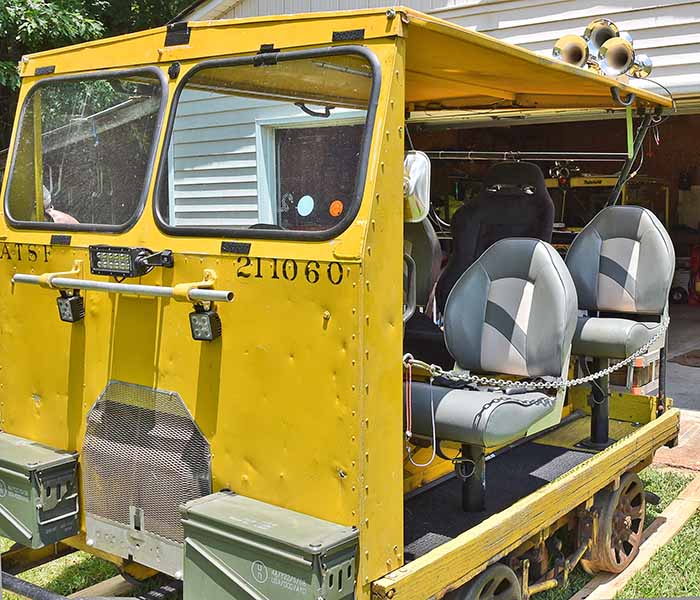 FOR SALE (Feb 11) GA - Fairmont MT-14 (1984) NARCOA Compliant; runs well. 2 updated passenger seats (have 2 original Fairmont seats, as well); Honda GX630 20 hp engine conversion with 65 hours run time. Foot operated clutch pedal, Hydraulic turntable, Motorola Radio w/NARCOA & AAR Railroad frequencies programmed. Optima Blue deep cycle 12 volt battery, air horns, strobe light, Intercom system with 2 headsets, overhead storage rack, LED head/ditch lights and side curtains $8,000. For additional information and/or pictures call 404-202-7881 Julie Cook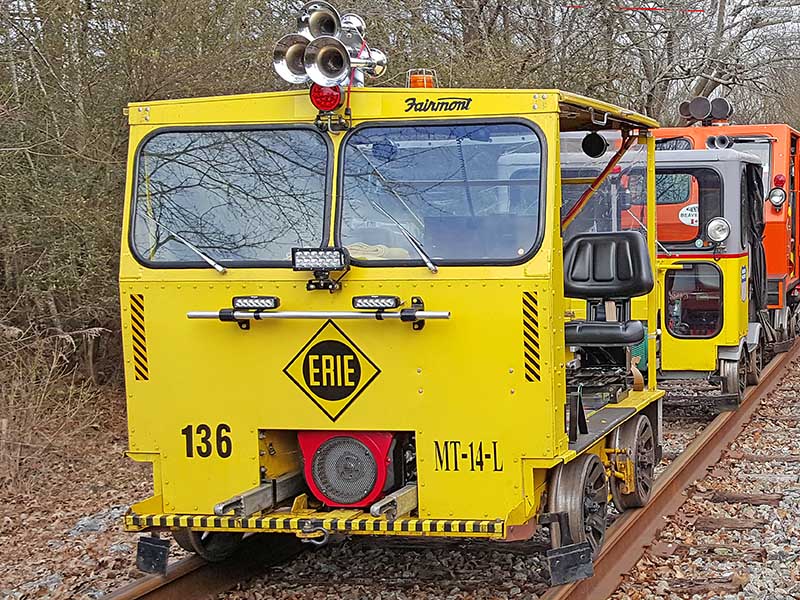 ---
FOR SALE (Nov 30) MO - Dual chain transmission sprocket (21 teeth), like new. Used for testing only. $100 + shipping. Norm McKeen 417-839-3300 or 417-839-3555.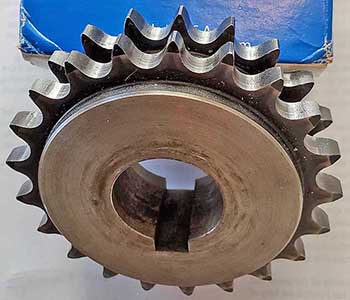 ---
FOR SALE (Nov 30) IN - Fairmont Motorcars. Wide selection of 60+ Motorcars and parts, from M9's to A4's. Most are M & MT 14, M & MT 19. Many are intact and good candidates for restoration, and I am getting new arrivals nearly every month. Centrally located in Southern Indian, give me a call. David Staggs, 812 545 9684.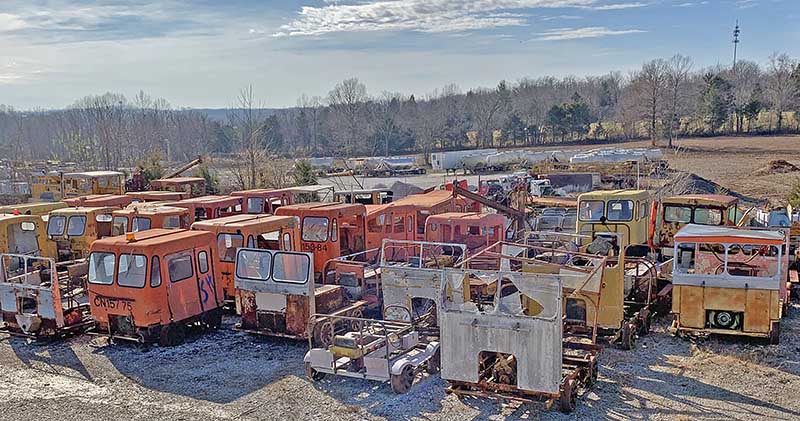 ---
FOR SALE (Nov 30) IN - Denver & Rio Grande Fairmont M19 "AA", unit #1042. Price Reduced - Rare with twin cylinder two stroke RK-B engine, survivor condition as received from the railway. Chassis number 242343 dates this car to approximately 1976. Engine starts easily, runs well, and has a new condenser, fuel tank and alternator. Car needs minor additions to be NARCOA compliant. Asking $4,000. David Staggs, 812 545 9684.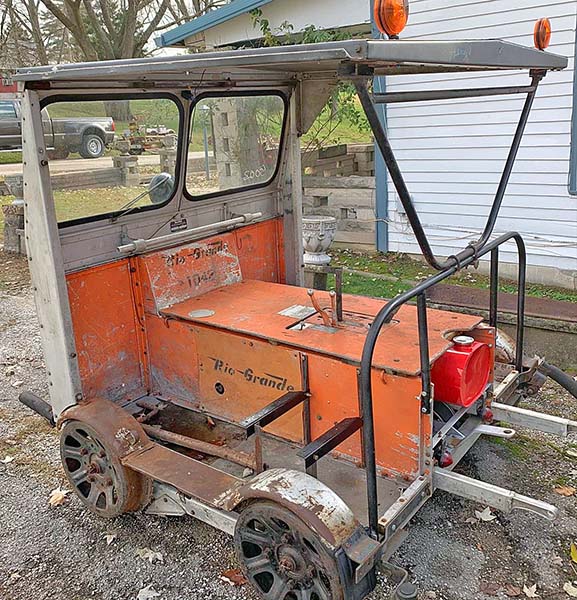 ---
WANTED (Nov 27) FL - Flange Brake Pads for 1973 MT-19 with 16 inch wheels. New or gently used. I am in Florida so they will need to be shipped.Todd Brackett
---
WANTED (Oct 29) VT - MT Aluminum Cab - I'm looking for a fully enclosed aluminum cab for a Fairmont motorcar. I currently have a fiberglass MT14 cab with the doors for it in good condition. I would prefer an aluminum Fairmont cab for it. I'm open to either an MT19 or MT14 cab. If you have an old motor car or a cab or even parts of a cab I'm interested. Please contact Tom Sopchak (802) 578-7427
---
FOR SALE (Oct 28) WA - Fairmont M-9 Railcar. $2,500. Installed with a combination starter/generator. No hand cranking here. Buzz box pulled, replaced with electric ignition. Painted red cab with side and back curtains. Bring your trailer, you will like what you see. 30 miles North of Seattle. Bruce Ferguson at 1-360-568-5424. Member of PRO for 20 years.
---
WANTED (Sept 9) PA - Railcar For Restoration Or Rebuild The car does not have to be running and can be a basket case. Can travel to pick up speeder. Open to any manufacturer and model Beaver, Buda, Casey Jones,CCR, Fairbanks Morse, Fairmont, Northwestern, Kalamazoo. Protec .MTM, Sheffield, Sylvester, Tamper, Woodings ,Etc. Contact Jack Boorse 267-750-8320
---
FOR SALE (Aug 31) OH - Trailer - Trailer has all new LED lights, wheels, tires, hubs and bearings, spare tire and mount, trailer jack with wheel, hand winch, 4 tie down D rings, saftey chains, axle U bolts and storage box. Trailer comes with, 2 inch ball hitch, lock for trailer and Ohio weight slip. Asking $1,300. Located near Dayton, Ohio. Contact Kerry Weller 937-554-0074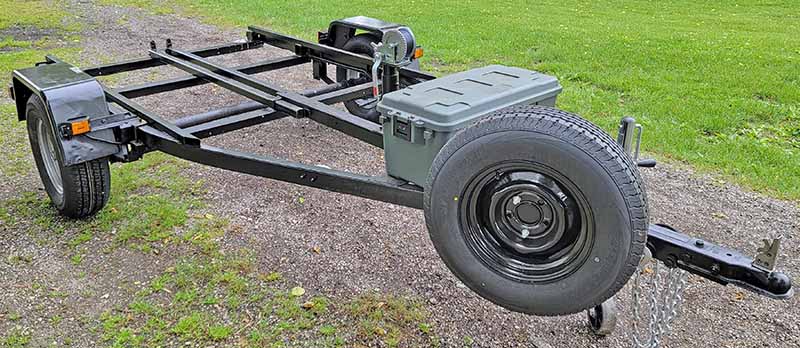 ---
FOR SALE (Aug 24) MO - New NOS CCKB crank shaft. STD size. Only 2 left in stock. No exchange. Call with your crank casting number on your crank. $235 USD + shipping. 417.839.3300.
Norm McKeen.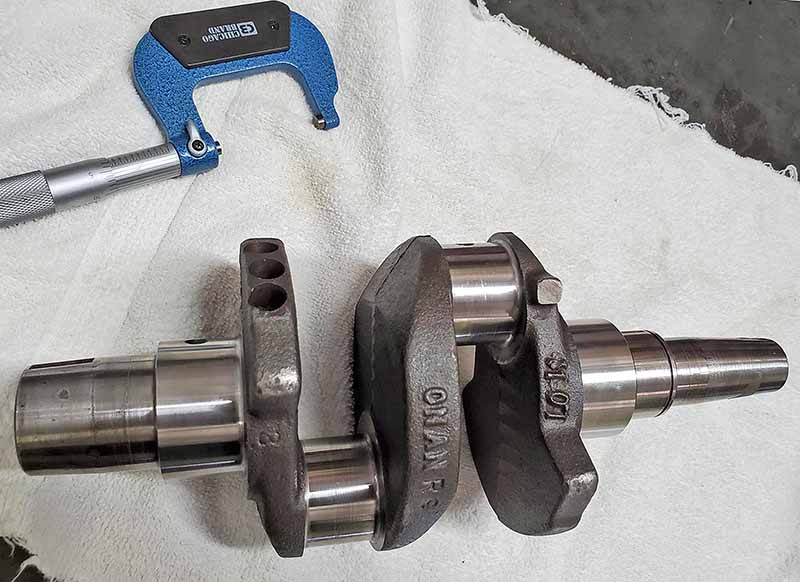 FOR SALE (Aug 20) CA - 19B with 20HP Honda engine with electronic ignition. Fiberglass cab(no rust) almost kept original except for doors. Lightweight easy to trailer(almost push it on) no turntable has lift handles for turning. NARCOA compliant lights, horn, brakes, tow bar rail sweeps, fire extinguisher, extra chain, Brake and rear lights are now LED's. Wipers that work. Roof has flashing amber light. Interior light, fan. Unique are doors made into "Dutch" doors so top can be folded down for better visibility at crossings or removed during nice weather. Got notebook with Honda manual and notes for electrical mods and spare parts. Car is going because volunteering at local railroad is enough "railroad". I like it to go for about $2500 and some transportation. John Atkinson (530) 362-2765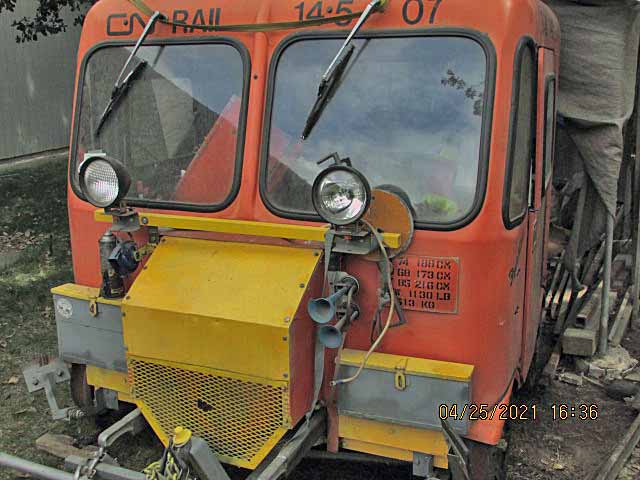 ---
WANTED Aug 20) (NY - Center Bearing Housing - In need of an MT-19 rear axle center bearing housing. I have the actual bearings, shims and cap. Just need the housing. Mike LaLonde 315 790-9981
---
FOR SALE (Aug 7) NY - Fairmont Hyrail #83072 cross channel ( guide arm mounting) old stock have a pair nice and straight with old paint $150.00 can call Mike Whipple at (315)256-3726 or Emal. I am 20 miles East of Syracuse NY I can bring to the D&L trip, Fingerlakes trip or Southern tier trip, W&W- Strasburg trip.

FOR SALE (Jun11)) MT-19 with Onan CCBK Engine which ran great the last time I used it. Fredericksburg Shops Turn table and new seats from the same and Fredericksburg Header Pipes on Engine. New windows, Window wipers and new blades. Tools for checking wheels. Brakes are almost new, wheels are almost new, only used on one or two trips. Tow Bar on back. Winch on front with good cable. New NARCOA approved Radio. Asking $3,500. for Speeder and $1500.00 for Trailer which is almost new built in Lewiston ID. for me. It can be converted to haul other things if you have welding skills. Speeder will need to be brought up to NARCOA's new rules. Should be retuned. Always stored in garage. Please Text me as I don't hear so good. 208-743-7471; Sterling Chapman, Lewiston Idaho.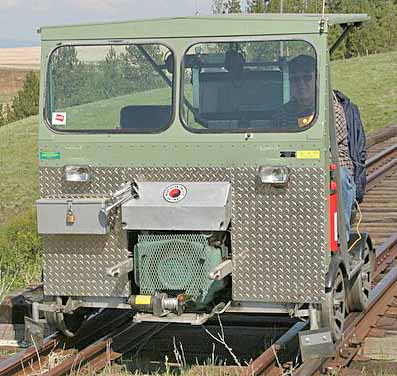 More Stuff

CLICK HERE to continue to the Motorcar Parts & Accessories Page