Advertising on this page is for NARCOA members only. Ads must be for motorcar related items - no general railroadiana. NARCOA members must email full name, the location of the advertised equipment and a description to: webmaster@narcoa.org. One picture per ad in .jpg format. Do not use all CAPITAL LETTERS or all lower case. Capitalize and punctuate properly, as ads are cut & pasted. Ads are posted for 120 days. Please send ads as email text and not as a word processor file.
If you advertise on this page, you will receive offers from scammers. Click Here to find out how they operate.
---
---
FOR SALE (Apr 26) WA - Union Pacific S-2 'flat top': $1800. Fairmont built in 1956. Have history card. Mechanically fit and NARCOA ready-to-roll. Car taken apart to replace and make new. 6-volt with generator. Pull any grade. Car located 30 miles North of Seattle, WA. Bruce A. Ferguson PRO 360-568-5424 Snohomish, WA 98290
---
FOR SALE (Apr 26) WA - Fairmont 'flat top'. $2600. M-19 speeder that is mechanically fit and NARCOA ready-to-roll. Car taken apart to replace and make new. Zero track time. Included in sale will be extra engine for rebuild. [no carb]. Car located 30 miles North of Seattle, WA. Bruce A. Ferguson PRO 360-568-5424 Snohomish, WA 98290
---
FOR SALE (Apr 26) OR - 1985 Fairmont MT19B Onan-B48G with oil filter, low miles, always garaged, runs great, excellent shape, Flight Com ear phones, turntable, custom tilt covered trailer, decals come off easily with heat gun. NARCOA ready. Speeder-$5,000, Trailer $1,000 Jonathan Jordan, Grants Pass, Oregon
---
FOR SALE (Apr 26) CO - Nolan cast wheels and axles. Nearly new, just enough miles to wear some paint off. Very heavy duty, rated at 10,000# per pair. Was going to put them on my push cart but not sure I want the extra weight, 238# each. New $1,700 each. Asking $2,200 for the pair. Brian Delaplaine located North of Denver.
---
FOR SALE (Apr 26) WA - MT-14-M B48G Engine. One of the last ones built. Factory hydraulic turn table, Narcoa ready, some extra parts. Custom trailer with Warne winch fast set on and set off.
$10,500 with trailer. $9,500 motor car alone. David De Vore 509 981-5919
---
FOR SALE (Apr 23) ON - ex CN MT-19-A #139 08 - Recently received & needs major work. Engine is seized due to not being turned over for years. Throttle body stuck. All parts are there. Has ice cutter wheels on rear and one excellent wheel and one bad wheel on front. I am soaking the cylinders now and if it frees up, the price goes up too. Right now, as is, US $1,000 takes it. Contact: Ken Annett, 3483 Church St Windsor ON CAN N9E1V6 Phone: 519-969-8695
---
SOLD (Apr 23) ON - ex Ontario Northland M-19 - Former ONR # 358 eng # 107738 This car is in good mechanical condition & is a strong runner. It has operating head, tail & stoplights powered by an alternator. Wheels & belt are very good. Comes w/ an old canvas front windscreen that needs new vinyl "windows". Lacks one seat cushion. Good value $1,750.
---
FOR SALE (Apr 23) ON - ex CN MT14L # 155 82 - I recently received this car in good shape & complete. Engine is free but starter not working but all other electrical works. Nice paint and body work but no glass. Comes with original bi-fold doors if wanted. All wheels 1/4" or better with good profiles. Excellent deal at $2,250 US. Contact: Ken Annett, 3483 Church St Windsor ON CAN N9E1V6 Phone: 519-969-8695
---
FOR SALE (Apr 13) CA - 1992 Chevrolet C2500 Stakeside Flatbed Hy-Rail truck. Harsco 307 Hy-rail gear. 350CI gas V8. Automatic Transmission. 62K original fleet maintained miles. Like new tires. Has both amber strobe light bar and conventional rotating amber beacon. 110 Gallon diesel transfer tank and pump mounted on the bed. The truck was originally owned by the US government and was then sold several years back to the Menlo Park Fire District. They painted it red, added the Hy-rail gear and code 3 equipment. According to the fleet manager, the truck was never used on the rails and the rail wheels look as such. It was used only as a general utility truck. Since I have owned it, I had the front end rebuilt to replace components worn out from the extra weight of the Hy-rail gear. Headlights have been upgraded to LED. Truck is located in the San Francisco Bay Area. $8,500. Call Greg David at 650-969-4867.
---
FOR SALE (Apr 13) CA - Pair of MT 19 railcars. The first is a former Northwestern Pacific, powered by an Onan CCKB and painted to resemble an SP cab forward locomotive, an imaginary last of its kind, #4295. This car is equipped with a vintage headlight as well as two led headlights for night time running. The car has marker lights front and back, a bell, a working steam whistle, two sanders, authentic locomotive-type instruments and a Les King turntable. The seats are brown vinyl embossed with the "Southern Pacific Lines" logo. The brake handle is fashioned from a locomotive brake handle. The car has a Kenwood, FCC compliant radio, programmed with NARCOA and PRO frequencies as well as weather. It also has a David Clark intercom system with two headsets.

The second car is an unpowered MT 19 "baggage car." This car has front and rear windows, a wiring connector to provide marker and brake lights and hasps to allow locking the doors.

Included with the rail cars is a tandem axle trailer with an electric Warn winch, set up to haul both cars. The trailer has brand new tires. These cars are NARCOA compliant and ready to go! Lots more photos available on request. $8,500. Contact Rich Gunn, Wilton, CA 95693, 916-955-8510,

---
FOR SALE (Apr 10) WA - Fairmont speeder, type unknown. has big popper engine on a M-14 frame and what looks like a reversing mechanism. Needs brake assemblies. $1,200. obo. Available in Richland, WA. Ben Amodeo, 509 539 2096
---
FOR SALE (Apr 10) NY - Fairmont/Onan parts forsale. -
Onan cckb and b48g engine tool lot
1) Onan 420-0531 Drive handle
2) Onan 420-0537 Valve guide driver
3)Onan 420-0536 Seal remover plate (for front and rear crankshaft oil seals)
4) Onan 420-0538 valve guide installer
5) Onan 420-0539 crankshaft seal installer
6)Onan 420-0540 crankshaft seal expander
7) Onan 420-0541 crankshaft seal installer
8) Onan 420-0542 crankshaft/camshaft bearing installer
9) Onan 420-0543 crankshaft/camshaft bearing remover
10) Onan 420-0545 rear cam bearing installer
11) 5 Onan 420-0342 ball drivers
12) Onan 420-0544 valve guide installer
13) Onan 420-0535 special shoulder bolts for removing crank shaft gears.
These are hard to find and expensive tools.. Selling as a lot $300
1) NOS Onan cckb block $350
2) Fairmont MT clutch kit. (Includes clutch pressure plate Throwout bearing and hosing and return spring)$175I also have a Large stock of Fairmont MT Transmission and Onan engine parts to many to list most new if your looking for some think I most likely have it. Paul Sternitzke, 845-857-4646 Oneonta, NY
---
FOR SALE (Apr 10) NY - 3 rebuilt Fairmont 2 cycle engines..
1 Fairmont ROC
2 Fairmont ODB
3 Fairmont ROB
Engines were completely rebuilt with new parts all are $750 ea. Pictures on request. Paul Sternitzke, 845-857-4646 Oneonta, NY
---
SOLD(Apr 6) TN - Complete ONAN CCKB Factory Original Motor, Perfect Condition, 123# Compression in each cylinder, Serial No. J880174916, Model No. CCKB- MF3393J $875.00
---
WANTED (Apr 6) MI - Fairmont TH1 or TH2 highway trailer; the TH1's were the lighter duty trailers and were meant for track inspector cars while the TH2's were heavy duty and meant for heavier cars like gang cars. Thanks! Feel free to call/text Aaron Farmer at (248) 808-1329.
---
FOR SALE (Apr 5) ON - Fairmont MT19 Motor car (ONAN Engine) & trailer with wench. $6500.00
Edgar Sandham 519-777-7355
---
FOR SALE (Mar 22) MI - Fairmont Hand Lantern #8404 Plus Extras. This original cast aluminum hand lantern is in very good condition and is functional. It would be a great display item, or with the proper batteries installed would be a fully functional lantern as designed. At the back of the lantern is a light beam focusing knob. Included with the lantern are 5 NOS, hard to find, 3 volt replacement light bulbs and an official Fairmont wrench. The wrench has the name Fairmont US molded on it and the two ends are labeled 7/8" and 3/4". This is an old Fairmont wrench and another neat display item. Package Price, $165.00 plus $10.00 priority shipping in the lower 48 states. Tom Kasinec, (269) 323-3102 More pictures on request.
---
FOR SALE (Mar 13) CA - Ex-CP 1979 Fairmont A4D with 2.3L Ford engine. It runs and operates very well. Fully NARCOA compliant with new wheels and brake linings last year with low mileage. Custom air-ride suspension, large storage box, extra seats with mounting brackets, turn table, very good NARCOA compliant radio with intercom (no head sets but can get you some), loud electric horns, No trailer but can possibly deliver within reasonable distance. Located in Fairfield, CA. Asking $7,200. For more info and pictures please email Rick Smith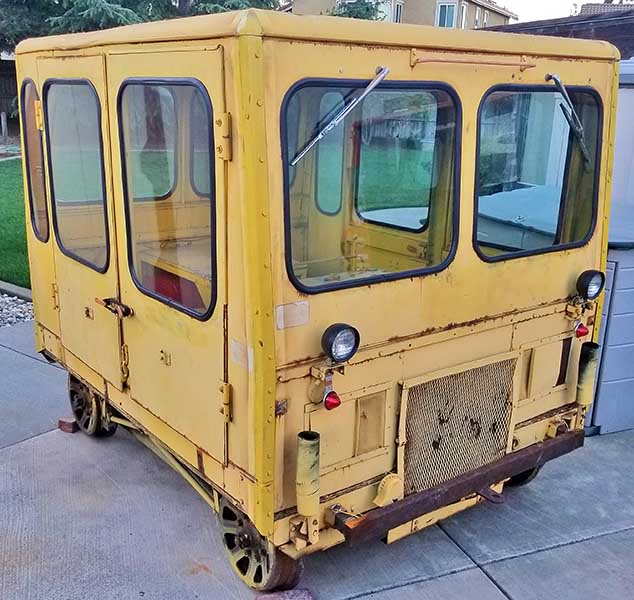 ---
FOR SALE (Mar 3) GA - Frame up restoration of MT19 with extended cab and an MT14 front end, black in color with gray trim and diamond plate. All new wiring, metal, seats, gas tank, alternator. Completed and used only last year. Has electronic ignition. Car is totally NARCOA compliant. Own two railcars, three classic automobiles and one antique tractor. To many toys, not enough room. Asking $5,500. Located in Blue Ridge, Georgia. Contact Phil Strine, 770-312-0568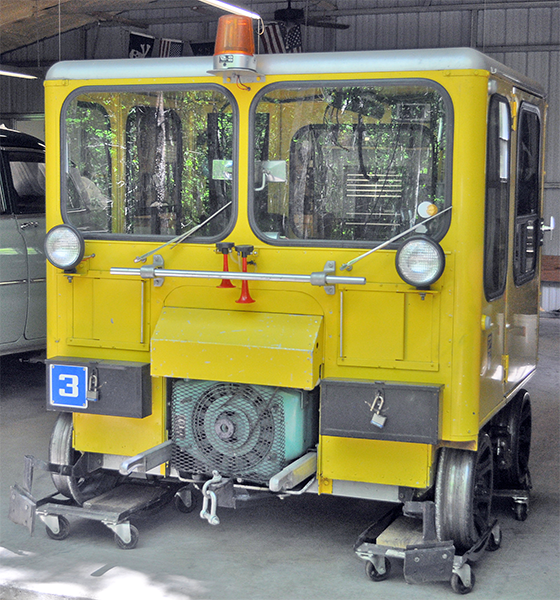 ---
FOR SALE (Feb 23) IN - Thinning out collection. M through A's. David Staggs 812-545-9684. Located southern Indiana.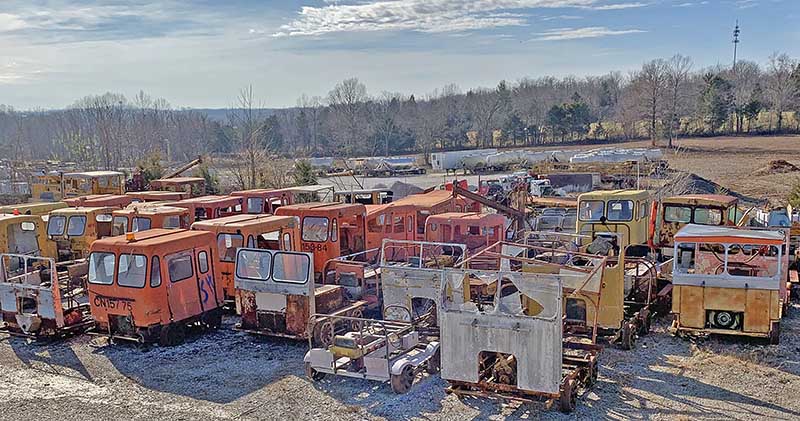 ---
FOR SALE (Feb 17) PA - M19 Motorcar with aluminum front and top. This car is in pieces with no motor, no glass, no real concrete history. Was last used at the beginning of the Adirondack Railroad, but unknown where it came from prior to that. Wheels seem to be NARCOA compliant, but use your own judgement. Main frame of the motorcar and the axles/suspension seem to be in good shape. Will not part out, I want to sell to someone who will put it back together. Too many projects, don't want it to sit for 20 more years. Asking $600. Sid Walker 724-988-9264, Sandy Lake, PA
---
FOR SALE (Feb 17) CA - 1929 Sheffield completely rebuilt several years ago. It was born and died on the Amador Central RR in California. The car was taken down to the frame and everything that needed to be replaced was. The rotten wood was all replaced with Southern Yellow Pine and the car repainted to the original colors except that it was sprayed on instead of brushed on as the original was. One item not original is the wheels. I tried for almost 2 years to locate original wheels and couldn't. The car when last run did so without missing a beat and has made a few trips to the top of our railroad and back. The car is being sold as I have had shoulder surgery and can no longer start it without a lot of pain. Rather than have it sit in my garage I would rather put it in the hands of someone who would enjoy operating it. Car is located in Plymouth, California. Asking $5,500.00 Questions? Please write Grant Vogel
---
FOR SALE (Feb 14) AZ - ATSF 1957 S2 - Powder coated, engine gaskets, belt, electronic spark box, brake blocks, alternator, wiring, battery, muffler, spark arrester, electric jack, info plates, upholstery, windshield all new. Never run on rails as I have no time. 2nd ST2 to rebuild or use for parts. $5,000 for both or none. Bob Hewitt in Arizona at (602)679-4763
---
FOR SALE (Feb 14) QE - Brand new rebuilt MT-14... Ex-CN: $5,000 Now in Gaspé, PQ (Canada). Discussions or arrangements to comes if necessary. Louis-François Garceau, affiliate NARCOA, 5408, rue de la Rapsodie, Lévis (Québec) G6X 2Z6 - Canada PH: (418) 832-1502 - Mobile: (418) 955-2466
---
FOR SALE (Feb 9) CO - Brackets for steps on the each side of an A-6. Could possible work on other cars/pushcarts. Asking $200. Located in Frederick, CO (north of Denver, CO) Brian Delaplaine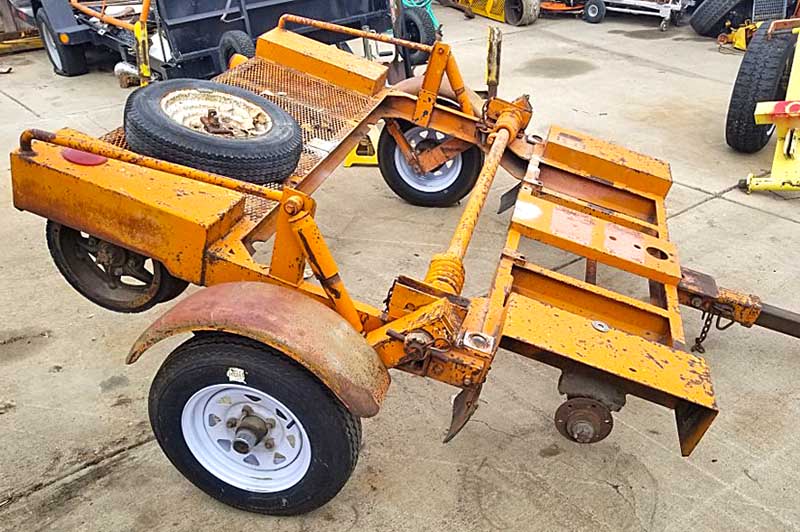 ---
FOR SALE (Feb 6) BC - Fairmont M-14 $3,500. Full rebuild and NARCOA Inspected. We took it on a NARCOA Excursion to Manitoba and Saskatchewan, but mostly used locally on the track between Parksville and Pt Albernie on Vancouver Island British Columbia. For More information and pictures, email Glenn Cleveland
---
FOR SALE (Feb 3) MO - Woodings CBI - Full disassembled restoration 90% complete. Needs body work finished, fiberglass cab has all the glass work done, a little putty and paint to finish. Everything except engine, has been rebuilt, repaired, or replaced. Engine has carb rebuilt, new fuel pump, and good tune up. Factory manual, parts list and other documentation. Has factory turn table, New gas tank, dash , gauges, brakes, lights, air horn, alternator, seats, belts, LED lights, wiring, lift handles, etc. Have shelves of spare parts, complete rear axle, wheels, transmission gears, one new set of gears for a series 8, 3 heaters, Woodings factory turn table, in addition to the one in the CBI, wire harnesses, brake assemblies, gas tank, new unused track flag set, glove box, window seals, clutch parts and belts, doors. Located in SW Missouri, approximately 30 miles west of Branson. Asking $5,990 OBO Call Ed Hoefler at 417-858-0338
---
FOR SALE (Jan 26) MI - Service Instructions and Parts List for M19 and MT19. Pages are enlarged to 8.5" X 11". Pages are in sheet protectors, in a 1" binder. M19 manual is 86 pages, includes Blue prints of the ROC engines. MT19 manual is 43 pages. Manual covers the Car and Transmission ONLY. Does NOT cover the Onan engine. Manuals are $50 Each + Shipping. Starting Crank for M14, S2 engine. $125.00 +Shipping. Located in SE Michigan. Phil Hines, PO Box 851003, Westland, MI 48185
---
FOR SALE (Jan 18) MS - Fairmont A-4 – Beautifully restored gang car with smooth running 2.3L Ford engine. New battery. $6000. Contact Chip Gibson at (601) 549-4740.
---
WANTED (Jan 15) BC - Fairmont MT-14M Manual. If you have one for sale or know where I can get one, please contact me by email. Greg Haider
---
WANTED (Jan 5) LA - Affordable Woodings. Any condition considered. Prefer a project car but would like to hear about anything if the price is reasonable. If you have one or know of someone who does please give me a call or email. Don Stamper, Shreveport, LA 318-773-9693
---
FOR SALE (Dec 16) IL - 2001 Dodge Hy-Rail - Unit is in excellent condition. New radiator - New fuel pump - Rebuilt motor. Rebuilt rear end - New brakes - New tires. No rust, Calif unit. Includes railroad radio and current FRA inspection cert. Price reduced to $8,000 Located Marion, Ill David Rangel
---
FOR SALE (Dec 12) MI - Service instructions and parts list for M9G. Pages are enlarged to 8.5 x 11 format. Pages are in sheet protectors, in a 1" Ring binder - 80 pages. Includes Blue Prints of the RO-C engine - $50.00
4 Axle Hubs P/N M18520, Sold as a set 4 only. - $275.00
M19 6V Battery holder - $20.00
2 Sets of Gas tank Saddle and Straps for 4.5 Gal. oval gas tank - $25.00 per set
2 M19 Brake Handles and 2 M19 Idler Pulley handles - $25.00 each
M14, S2 Engine Crank - $125.00
3 Front Guard-rail Push Bars -$30.00 each// 2 Brackets only, No tube - $20.00
1 and a half M19 Rear Belt Pulley. The (Hole) Pulley has a 1" piece of metal
broken out of the belt flange. Could be repaired.
The Half Pulley has axle keyway -$50.00
Motorola 6V 55 amp Alternator, model #A6P-350 - $50.00
Complete Idler Pulley ASY. for M19 or M9 , good bearings - $200.00
4 M19 fender (Holders) -$10.00 each
4 Front side panel support Brakets (2) P/N 58618, (2) P/N 58619 - $20.00 each
Fairmont Generator Bracket for ROC engine - $20.00
2 Control Panels, (1)P/N 46573, (1) P/N 46573K - $30.00 each
M19 Bottom frame complete - $100.00
M19 Botom frame (Incomplete) - $80.00
4 M9 14 Inch Wheels:
(FOR DISPLAY PURPOSES ONLY-NOT NARCOA COMPLIANT!!) - $25.00 each
4 Decals Reads FAIRMONT peel and stick - $10.00 each
2 Cast Metal Chrome plates Reads FAIRMONT - $20.00 each
4 NEW Fairmont M19 Steel Brake Shoes P/N M16055 - $20.00 each
ORIGINAL Fairmont Valve Seat Installation Tool.
For C5 carb on one end, C8 ? carb on other end - $125.00
Sales Brochure Copies: Fairmont Wheels, Axles, Bearings 13 pages - $10.00 each
Sales Brochure Copies: Fairmont Engines: Covers RK-B, RQ, RQ-D, QBA-B, OD, OD-B, RO, RO-C 28 pages - $12.00 each
All Hardware is USED!!! But in good condition. All item prices are Plus Shipping! Pictures available on request. Located in S.E. Michigan. Phil Hines.
---
SOLD (Dec 5) KY - Single-axle trailer for speeder. New springs, hitch, wheel bearings, lighting and tie-down anchors. Good bed and 2x4 stringers. Tires are dry-rotted but hold air and will get it home and the trailer comes with a spare wheel and tire. Add $100 and I'll install a new pair of wheels and tires on it. I originally got this trailer for my A3 Fairmont but found that it is too small for a larger gang car. Trailer does not have ramps. $650 US and can deliver for negotiated fee.

---
FOR SALE (Dec 5) MI - M19 Aluminum Roof (60 1/2"L x 63 3/8"W x 3"H). Support pipe and mounting bracket. $350. plus shipping. Located in S.E. Michigan. Phil Hines.
---
FOR SALE (Nov 28) QE - Parts:
2 Fairmont seat frame (folding back)
3 flange brake shoes (new )
brake shoes for gang cac (winter wheel & standard used condition )
wood block (new& used )
3 flaging kit (1 all complete)
Reason for the sale - I sold all of my machines no more needs. Price $200. Michel Raymond
Drummondville, QE, Canada tel : 819-396-0974
---
WANTED (Nov 24) MI - Looking for more information (or even to purchase) on the Fairmont TH1 & TH2 highway trailers; the TH1's were the lighter duty trailers and were meant for track inspector cars while the TH2's were heavy duty and meant for heavier cars like gang cars. Any and all information is appreciated. Thanks! Feel free to call or email Aaron Farmer at (248) 808-1329.
---
FOR SALE (Oct 30) ON - Canadian National Car Fairmont MT-19B #145-10 NARCOA ready. Onan B48G 2 cylinder engine, good running when last used. Car has been in storage ever since. Many extra's T-9 push car, many used wheels, never used ice-breaker wheels, spare transmission. More pictures available upon request. $3,700.00 US. Call or email Terry Boucher at 519-501-1351, Guelph, Ontario, Canada
---
FOR SALE (Oct 13) CA - MT-19 w/Fairmont Turntable and working gyrolight. Repainted and rear axle gauge set with tapered reamer, Two new wheels & NARCO ready. New alternator & new gas tank. Gyrolight modified to work on 12Volts. Wanted my Motor car to look Like a Locomotive at night. $6,000. Too old to take it out anymore! Need to empty my whole collection.
For Sale SP auction MT-19 Disassembled With motor Transmission, axles, Wheels, An body $1,500.
For sale Tapered Insulated reamer made by Local machine shop works great $200
For sale SP combination Motor car & pole trailer with electric winch. This is a narrow trailer and will follow in the width of your vehicle no tires sticking out greater than the width of your vehicle, I love it. $2,000. That's it and I will be out of the Motor car hobby.
Roger Graeber 8191 Appian Way Sebastopol CA 95472 (707) 829-1536
---
FOR SALE (Oct 12) CA - Windows, Door windows, Rear window, all seals from a 1986 Fairmont M14-M1 Original. Have been in storage for the last 23 years. Great condition. $40 plus shipping. George Stark 805 964-2906. I am driving East from CA to Nashville and could meet along the way in Dec. I-40 / I-44 To Springfield, MO - then to Nashville.

---
FOR SALE (Oct 11) PA - 1949 M 9G Fairmont. Was used on the EJ&E RY. Restored 2 years ago with 75 miles on it. New wheels all the way around. Fully NARCOA Compliant. $3,500 OBO
Bud Shinkle Email for more info an pictures or call 570-992-1332
---
FOR SALE (Oct 10) CA - MT-19 transmission. Rough exterior, but great on the inside near perfect. Has throw out bearing but missing shift levers. $600. Dave Hoopes at 661- 587-4195. Bakersfield, CA 93314
---
FOR SALE (Sep 19) SD - MT 19A3 Fairmont rail car BN-1231-M shipped out to Bradshaw, NE on 11-1-1984. NARCOA TRACK READY ONAN CCKB-MF/3393J with les King embroidered seats, travel cover, and wiper motors. Les King – Bill Mark turn table – David Clark communication equipment with NEWMAR PC-Filter – with radio interface adapter - Motorola Spectrum radio for listening only (all three NARCOA channels). Rail car trailer with 12V winch, Aluminum tool box, and spare tire. Extra 129118E Gasoline Heater not installed. $8,000 Call Rodney Melcher 605/939/6202 Black Hawk, SD.
---
FOR SALE (Sep 14) NJ - Fairmont 16" Wheels M11405 - set of four. These wheels came off my 1946 DL&W M-19. They are 16 x 1/4 x 4 1/2 inches. Even though they started new at 1/4 inch thick, they are only worn to 3/16" thick now; still a full 1/16" of NARCOA life left on them. Please see photos HERE for a better look. There's a good coat of rust on them, but nothing some sandblasting and paint won't fix. If you need wheels for a display car, want those historic 1/4" thick M11405 wheels, or just need some wheels to hold you over until your next new set, these could be it. $200 / OBO. I'll meet you half way, up to an hour from my house to help get them there. Otherwise, you can pay shipping (OUCH!). Tom Schmieder 908-310-9110
---
FOR SALE (Sep 5) NE - M19 and 10 foot trailer. ROC motor. car mechanically fit and NARCOA ready. The car has seat belts, good brakes, along with new brakes in the box, newer 6 volt battery and a custom made two wheel dolly to turn the car. (see photo attached). This car has been requested by the Union Pacific and shown at the past three Union Pacific Family Days in Omaha, NE. It's that fine of a car. Asking $3,000 or best offer for the car and the 10 foot galvanized trailer. For sale due to health issues. More photos on request. George Schmidt
---
FOR SALE (Sep 5) SC - A-4 rail car. NARCOA compliant. The reason for the sale of this vintage car are for reasons beyond my control. Everything works. It might be a little rough looking. She has a 4 speed transmission with reverse and a forward and reverse rear end. Pinto Engine, 5 Bucket Seats with new seat covers, good wood, tow bar, automatic brake lights, extra brake shoes, and bearings. She is a fine runner just the way she is. But if you have the desire to give her a paint job, this car would look sharp. Contact Joe Macaluso, Anderson SC, 770-653-4780. Priced for a quick sale $3,700. Trailer is optional for an additional $1,700 which has electric brakes, 3,500 pound winch, and spare tire.
---
FOR SALE (Aug 22) NY - Buda 19L motorcar - Very nice Buda 19L motorcar. Car was built on Jan 24, 1942. Car is powered by a 4 cycle buda model E 8 hp two cylinder opposed engine and a friction drive with 5 speeds in ether direction. Has a very strong Eisemann magneto. Car is Narcoa ready with headlights and brake lights. I hate to sell it but its time to let someone else enjoy it. I also have an extra engine available for who ever buys the car. $3,500. Car is located at my shop near Oneonta, NY. Paul Sternitzke 845-857-4646
---
FOR SALE (Aug 22) NY - Fairmont M19AA kit car. I'm selling my M19AA kit car I bought from Doug Heinmuller just before his passing.. This was going to build up into a low front open car. Most of the parts are NOS. looks complete except for wheels and bolts. Engine is an RKB and was rebuilt by Doug and like the car needs to be assembled. kit also includes a NOS coil, Nos alternator kit, new belt. Anyone who knew or delt with Doug new he had all top notch parts, he didn't sell junk. Asking $5,000 more pictures on request. Car is located at my shop near Oneonta, NY. Paul Sternitzke 845-857-4646
---
WANTED (Aug 19) TX - MT-14 Metal Cab - I need a complete, straight MT-14 metal cab (front panel, roof, rear panel OR supports for open back) to complete my latest restoration project. Philip Hopper, 6126 Bear Branch Drive, San Antonio, TX 78222, phone (210) 845-4119.
---
FOR SALE (Aug 19) TX - Kalamazoo Front Axle - This is a Kalamazoo front axle that was removed from a Fairmont MT-14L during restoration. The axle is in excellent condition. It can be picked up at my residence or at the West Virginia Run in Elkins, WV in October. I am asking $100. Philip Hopper, 6126 Bear Branch Drive, San Antonio, TX 78222, phone (210) 845-4119. More pictures upon request.
---
FOR SALE (Aug 12) MI - 1985 MT14 w/custom trailer. NARCOA compliant w/many extras! Electric winch, large hydraulic turntable, new rear wheels, 8 gal. gas tank, foot clutch, front and back brake lights, strobe, backup light, 2 trumpet air horn w/electric air pump, 4 place aviation intercom system w/4 headsets, 2way portable radio w/Narcoa channels and adapter to interface with aviation intercom, all required safety equip., custom sliding rear & passenger windows, door locks, latches for full or partial open door positions. Custom Ameron metallic dark gray paint with Walbash Graphics, custom Truck Visor, re-jelcoated interior with sound insulation, indoor/outdoor carpeted floor, Peterbuilt "high back" operators seats, new NARCOA rear facing seats in front, seat belts, refurbished transmission, 18 H.P Onan in excellant condition w/new plugs points & condensor & spark arrestor. Many more extras. Holiday Priced... $7500 including all communications equipment.... contact for many photos. Dave Reinbold, Nunica MI 616-570-5174
---
FOR SALE (Aug 10) WA - Former CP Railcar Canada and trailer - Two Passenger Model: CBI, Series: 82, s/n: A097. Has Railcar Canada's continuously variable V-belt transmission. Runs great and is fully NARCOA compliant. Includes new Fredrickson's Shop turntable to make reversing easy. Includes NARCOA wheel gauge and caliper. Custom built tilt-bed trailer included makes loading and towing easy. Car is 79" long overall and 63" wide. Reduced to $4,500. Doug Auburg, Battle Ground, Washington (near Portland, OR) 360-608-3802. Delivery may be possible for a fee.
---
FOR SALE (Aug 7) AB - Rail Car Canada - Very reliable NARCOA ready car with lots of extras! Our kids are grown and we are moving into a smaller car. Upgrades include: Comet clutch upgrade, Kenwood radio with open TX freq., Flightcom built in 4 place aviation intercom system, Air horn with 12V compressor and aluminum/fiberglass air tank, Completely rewired electrical system with LED brake lights and halogen headlights, Upgraded seating, boat seats plus plush padded bench with 4 place seatbelts, Rotary warning beacon, Good wheels and brakes. We have logged many miles in this car with very few issues and hate to sell her but need to downsize to a smaller car and need funds to rebuild the next car… Asking $4,000 USD Allan Wiens, Sundre, Alberta, CANADA Phone: 403-638-3225
---
FOR SALE (Aug 2) ON - Ex Clinchfield (CSX) A3 Fairmont with a 4 cyl Waukausha motor. All new wood since 2003, Professional made curtains for sides and back. Comes with new wood original bench seats and four leather sets 2 from a Jeep and 2 Les King Fairmont seats. Asking $6,000 Since I am in Ontario, Canada delivery arrangements can be made for a fee.
More pictures are available upon request. Bank draft, cash or certified cheque only. John Brown Area 8 director.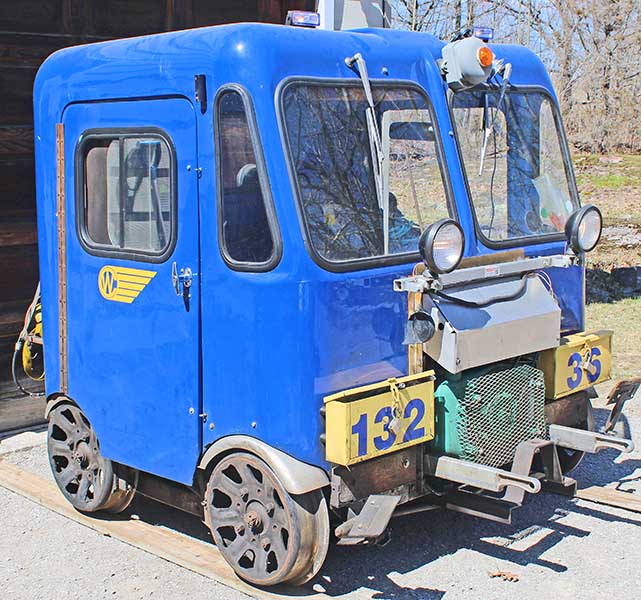 ---
FOR SALE (Aug 2) NY - A4 with an Isuzu C240 diesel. I completely went through this car and replaced all fluids, fuel lines, filters, coolant hoses and more. Fully Narcoa Compliant. 4 Speed transmission with reversing rear end. 5 seats. Isuzu diesel runs beautifully. **Cast wheels***. EX CP Rail car. John Baio Location: Carmel, NY $6,300.
---
FOR SALE (Jul 30) VA - New starter for Waukesha FC motor on many A cars. $230 plus shipping. Contact Chris Helmer (540) 355.2511
---
FOR SALE (Jul 23) CA - CN Beaver car. All aluminum cab, powered by a Deutz Diesel, Hydrostatic powered, Hydraulic turntable, Disc brakes, 3 chime Nathan air horn with commpressor,
Air conditioning,Tool box in front, Package rack in rear, Tow hitches front and rear, Narcoa ready.
$5,000. Dave Hoopes, 15806 Opus One Dr., Bakersfield CA 93314 Phone: 661-587-4195.
---
FOR SALE (Jul 8) CA - Three (3) rail speeders and a HUGE 30 year collection of parts (fills a 8' x 20' shipping container).
Speeder #1 MT-14 with a CCKB engine. Engine has been rebuilt and has approx. 500 hours on it. Car is NARCOA ready and includes a full dash with Speedometer, Tachometer, gas gage, clock and oil temperature, foot pedals for both clutch and brake interconnected with the levers. Brakes are bonded shoes and the shaft is solid steel (not a hollow tube) Bearing blocks are solid steel with a inside groove for grease to flow around the shaft. Remote controlled electric winch is mounted on the front tow bar. Gas tank is a stainless steel 6 gallon custom made with float for the gage. Dual 40 pitch sprockets with drip lube unit. Large tool box is mounted on the rear of the car. All seats have seat belts. A Motorola radio with full intercom and 2 sets of David Clark headphones with mikes are included.
Speeder #2 MT-19 AA with a RKB engine. Engine was just rebuilt with new sleeves, rings, seals, bearings, shims and all stainless studs and nuts. Engine is mounted but still needs some final connections to run.
Speeder #3 MT-14 rolling chassis with CCKB engine and transmission mounted.
Collection of parts includes over 30 wheels, some shafts, axles, engine parts, numerous transmissions and parts, seals, side panels, doors, roofs, front and rear panels and much more.
Located in Northern California near Santa Rosa, one hour North of San Francisco.
Asking price for entire collection is $25,000. Cars/parts are available separately at a price to be negotiated.
For more information/photos contact Alvin Hasin 707 887-7181
---
FOR SALE (Jun 26) NY - Factory Fairmont turntable for an A4 gang car. The hydraulics will most likely need a rebuild but all of the parts are there as far as I can tell. I have a crate to ship it in and could be shipped for a pretty reasonable cost through Fastenal, but I would prefer local pickup if possible. My A car has a diesel engine which was too big to allow the TT to fit under the car which is why I am selling it. John Baio Location: Carmel, NY Cost: $2,500.
---
FOR SALE (Jun 18) MD - Fairmont railroad work car - Partially restored. Car number 168380, Engine A1181A, Class 612, Series F, Group 6, Special 7. Located in southern shore of Maryland. Contact Kerry or Warren Mack 410-632-1901
---
WANTED (Jun 16) NY - Suspension kit or system for a Fairmont MT-14 speeder. James Keough, Cuba, NY
---
FOR SALE (Jun 13) WA -
Hood brackets. $25.
Flange brake hardware. $50. offer.
Rail sweep pair, SOLD
Ben Amodeo, Richland, WA.
---
WANTED (Jun 12) CO - F-3645 belt (4" X 95"). Pat Green, Longmont, CO
---
WANTED (Jun 9) IA - Bull gear for a pump car and possibly other parts. Victor Cross 319 470 7177
---
WANTED (Jun 9) NY - ST2, M14, CR7 with turntable. A cab would be nice. Mike Whipple Cell 315-256-3726
---
FOR SALE (May 23) GA - Two Nolan's carts. One is ready to go and the other needs work and I have 4 wheels for them that need bearings, Make offer. Stanley W.Wilson, Rockmart, GA 770-401-9358
More Stuff
CLICK HERE to continue to the Motorcar Parts & Accessories Page