Advertising on this page is for NARCOA members only. Ads must be for motorcar related items - no general railroadiana. NARCOA members may email full name, the location of the advertised equipment and a description to: webmaster@narcoa.org. One picture per ad in .jpg format. Do not use all CAPITAL LETTERS or all lower case. Capitalize and punctuate properly, as ads are cut & pasted. Ads are posted for 120 days. Please send ads as email text and not as a word processor file.
If you advertise on this page, you will receive offers from scammers. Click Here to find out how they operate.
---
---
FOR SALE (Oct 13) CA - MT-19 w/Fairmont Turntable and working gyrolight. Repainted and rear axle gauge set with tapered reamer, Two new wheels & NARCO ready. New alternator & new gas tank. Gyrolight modified to work on 12Volts. Wanted my Motor car to look Like a Locomotive at night. $6,000. Too old to take it out anymore! Need to empty my whole collection.
For Sale SP auction MT-19 Disassembled With motor Transmission, axles, Wheels, An body $1,500.
For sale Tapered Insulated reamer made by Local machine shop works great $200
For sale SP combination Motor car & pole trailer with electric winch. This is a narrow trailer and will follow in the width of your vehicle no tires sticking out greater than the width of your vehicle, I love it. $2,000. That's it and I will be out of the Motor car hobby.
Roger Graeber 8191 Appian Way Sebastopol CA 95472 (707) 829-1536
---
FOR SALE (Oct 12) CA - Windows, Door windows, Rear window, all seals from a 1986 Fairmont M14-M1 Original. Have been in storage for the last 23 years. Great condition. $40 plus shipping. George Stark 805 964-2906. I am driving East from CA to Nashville and could meet along the way in Dec. I-40 / I-44 To Springfield, MO - then to Nashville.

---
FOR SALE (Oct 11) PA - 1949 M 9G Fairmont. Was used on the EJ&E RY. Restored 2 years ago with 75 miles on it. New wheels all the way around. Fully NARCOA Compliant. $4,200 OBO
Bud Shinkle Email for more info an pictures or call 570-992-1332
---
FOR SALE (Oct 10) BC - M14 - Mint condition - totally rebuilt approx 8 yrs ago - since then has served on the Parksville - Port Alberni Track on Vancouver Island BC with one NARCOA Trip with Mike Ford In Saskatchewan and Manitoba Total estimated miles it has traveled since rebuild - 800. I have now totally freshened the little guy up ready for further enjoyment by a new owner. Totally NARCOA compliant. Asking $3,500 US. Please contact Glen Cleveland for further information or pictures.
---
FOR SALE (Oct 10) CA - MT-19 transmission. Rough exterior, but great on the inside near perfect. Has throw out bearing but missing shift levers. $600. Dave Hoopes at 661- 587-4195. Bakersfield, CA 93314
---
FOR SALE (Sep 28) MO - Fairmont MT 19 - Les king turntable, good wheels and brakes. New seats with seat belts,new lights and wiring,sweeps,air horn with compressor and tank. New glass and rubber,wipers and motors. New curtains with big windows.Flags and first aid kit. 4 good extra wheels rebuilt starter extra set of sweeps and other parts go with the car. $4,500. William Houser, Springfield, MO 65810 Phone: 417-300-3880
---
FOR SALE (Sep 19) SD - MT 19A3 Fairmont rail car BN-1231-M shipped out to Bradshaw, NE on 11-1-1984. NARCOA TRACK READY ONAN CCKB-MF/3393J with les King embroidered seats, travel cover, and wiper motors. Les King – Bill Mark turn table – David Clark communication equipment with NEWMAR PC-Filter – with radio interface adapter - Motorola Spectrum radio for listening only (all three NARCOA channels). Rail car trailer with 12V winch, Aluminum tool box, and spare tire. Extra 129118E Gasoline Heater not installed. $10,000 Call Rodney Melcher 605/939/6202 Black Hawk, SD.
---
FOR SALE (Sep 14) NJ - Fairmont 16" Wheels M11405 - set of four. These wheels came off my 1946 DL&W M-19. They are 16 x 1/4 x 4 1/2 inches. Even though they started new at 1/4 inch thick, they are only worn to 3/16" thick now; still a full 1/16" of NARCOA life left on them. Please see photos HERE for a better look. There's a good coat of rust on them, but nothing some sandblasting and paint won't fix. If you need wheels for a display car, want those historic 1/4" thick M11405 wheels, or just need some wheels to hold you over until your next new set, these could be it. $200 / OBO. I'll meet you half way, up to an hour from my house to help get them there. Otherwise, you can pay shipping (OUCH!). Tom Schmieder 908-310-9110
---
FOR SALE (Sep 5) NE - M19 and 10 foot trailer. ROC motor. car mechanically fit and NARCOA ready. The car has seat belts, good brakes, along with new brakes in the box, newer 6 volt battery and a custom made two wheel dolly to turn the car. (see photo attached). This car has been requested by the Union Pacific and shown at the past three Union Pacific Family Days in Omaha, NE. It's that fine of a car. Asking $5,000 or best offer for the car and the 10 foot galvanized trailer. For sale due to health issues. More photos on request. George Schmidt
---
FOR SALE (Sep 5) SC - A-4 rail car. NARCOA compliant. The reason for the sale of this vintage car are for reasons beyond my control. Everything works. It might be a little rough looking. She has a 4 speed transmission with reverse and a forward and reverse rear end. Pinto Engine, 5 Bucket Seats with new seat covers, good wood, tow bar, automatic brake lights, extra brake shoes, and bearings. She is a fine runner just the way she is. But if you have the desire to give her a paint job, this car would look sharp. Contact Joe Macaluso, Anderson SC, 770-653-4780. Priced for a quick sale $3,700. Trailer is optional for an additional $1,700 which has electric brakes, 3,500 pound winch, and spare tire.
---
FOR SALE (Aug 22) NY - Buda 19L motorcar - Very nice Buda 19L motorcar. Car was built on Jan 24, 1942. Car is powered by a 4 cycle buda model E 8 hp two cylinder opposed engine and a friction drive with 5 speeds in ether direction. Has a very strong Eisemann magneto. Car is Narcoa ready with headlights and brake lights. I hate to sell it but its time to let someone else enjoy it. I also have an extra engine available for who ever buys the car. $4,000. Car is located at my shop near Oneonta, NY. Paul Sternitzke 845-857-4646
---
FOR SALE (Aug 22) NY - Fairmont M19AA kit car. I'm selling my M19AA kit car I bought from Doug Heinmuller just before his passing.. This was going to build up into a low front open car. Most of the parts are NOS. looks complete except for wheels and bolts. Engine is an RKB and was rebuilt by Doug and like the car needs to be assembled. kit also includes a NOS coil, Nos alternator kit, new belt. Anyone who knew or delt with Doug new he had all top notch parts, he didn't sell junk. Asking $5,000 more pictures on request. Car is located at my shop near Oneonta, NY. Paul Sternitzke 845-857-4646
---
WANTED (Aug 19) TX - MT-14 Metal Cab - I need a complete, straight MT-14 metal cab (front panel, roof, rear panel OR supports for open back) to complete my latest restoration project. Philip Hopper, 6126 Bear Branch Drive, San Antonio, TX 78222, phone (210) 845-4119.
---
FOR SALE (Aug 19) TX - Kalamazoo Front Axle - This is a Kalamazoo front axle that was removed from a Fairmont MT-14L during restoration. The axle is in excellent condition. It can be picked up at my residence or at the West Virginia Run in Elkins, WV in October. I am asking $100. Philip Hopper, 6126 Bear Branch Drive, San Antonio, TX 78222, phone (210) 845-4119. More pictures upon request.
---
FOR SALE (Aug 16) FL - M-19 modified completely rebuilt with Briggs engine, snow transmission, variable speed pulleys - this makes car drive like it has an automatic transmission. Everything was replaced in this car. New wheels, Imron paint, custom turntable, radio and intercom. Car has been on many runs with absolutely no problems. With custom enclosed trailer that has winch, new tires, brakes and much more. $9000 car and trailer. Barbara Dittmann 941-795-0822
---
FOR SALE (Aug 16) PA - MT-19, believed to be ex-CPRail. Narcoa compliant. Mounted radio. Onan, F/R H/L manual trans, good wheels, runs great. Older restore/customized, but great runner as is. We've put at least 400 miles on it this year with no problems. Have a few extra parts. Asking $3,500 OBO. Trades considered, especially an M9, and trade not need be running. Contact Sid Walker, Sandy Lake, Pa. 724-988-9264
---
FOR SALE (Aug 12) MI - 1985 MT14 w/custom trailer. NARCOA compliant w/many extras! Electric winch, large hydraulic turntable, new rear wheels, 8 gal. gas tank, foot clutch, front and back brake lights, strobe, backup light, 2 trumpet air horn w/electric air pump, 4 place aviation intercom system w/4 headsets, 2way portable radio w/Narcoa channels and adapter to interface with aviation intercom, all required safety equip., custom sliding rear & passenger windows, door locks, latches for full or partial open door positions. Custom Ameron metallic dark gray paint with Walbash Graphics, custom Truck Visor, re-jelcoated interior with sound insulation, indoor/outdoor carpeted floor, Peterbuilt "high back" operators seats, new NARCOA rear facing seats in front, seat belts, refurbished transmission, 18 H.P Onan in excellant condition w/new plugs points & condensor & spark arrestor. Many more extras. Asking $8,750. Priced reduced without aviation intercom and walkie-talkie $7,750... contact for many photos. Dave Reinbold, Nunica MI 616-570-5174
---
FOR SALE (Aug 10) WA - Former CP Railcar Canada and trailer - Two Passenger Model: CBI, Series: 82, s/n: A097. Has Railcar Canada's continuously variable V-belt transmission. Runs great and is fully NARCOA compliant. Includes new Fredrickson's Shop turntable to make reversing easy. Includes NARCOA wheel gauge and caliper. Custom built tilt-bed trailer included makes loading and towing easy. Car is 79" long overall and 63" wide. Reduced to $4,500. Doug Auburg, Battle Ground, Washington (near Portland, OR) 360-608-3802. Delivery may be possible for a fee.
---
FOR SALE (Aug 7) AB - Rail Car Canada - Very reliable NARCOA ready car with lots of extras! Our kids are grown and we are moving into a smaller car. Upgrades include: Comet clutch upgrade, Kenwood radio with open TX freq., Flightcom built in 4 place aviation intercom system, Air horn with 12V compressor and aluminum/fiberglass air tank, Completely rewired electrical system with LED brake lights and halogen headlights, Upgraded seating, boat seats plus plush padded bench with 4 place seatbelts, Rotary warning beacon, Good wheels and brakes. We have logged many miles in this car with very few issues and hate to sell her but need to downsize to a smaller car and need funds to rebuild the next car… Asking $4,000 USD Allan Wiens, Sundre, Alberta, CANADA Phone: 403-638-3225
---
FOR SALE (Aug 2) ON - Ex Clinchfield (CSX) A3 Fairmont with a 4 cyl Waukausha motor. All new wood since 2003, Professional made curtains for sides and back. Comes with new wood original bench seats and four leather sets 2 from a Jeep and 2 Les King Fairmont seats. Asking $6,000 Since I am in Ontario, Canada delivery arrangements can be made for a fee.
More pictures are available upon request. Bank draft, cash or certified cheque only. John Brown Area 8 director.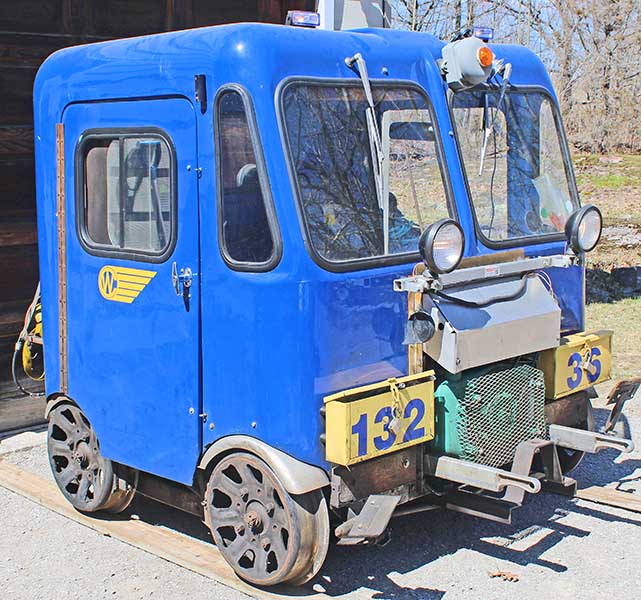 ---
FOR SALE (Aug 2) NY - A4 with an Isuzu C240 diesel. I completely went through this car and replaced all fluids, fuel lines, filters, coolant hoses and more. Fully Narcoa Compliant. 4 Speed transmission with reversing rear end. 5 seats. Isuzu diesel runs beautifully. **Cast wheels***. EX CP Rail car. John Baio Location: Carmel, NY $6,300.
---
FOR SALE (Jul 30) VA - New starter for Waukesha FC motor on many A cars. $230 plus shipping. Contact Chris Helmer (540) 355.2511
---
FOR SALE (Jul 23) CA - CN Beaver car. All aluminum cab, powered by a Deutz Diesel, Hydrostatic powered, Hydraulic turntable, Disc brakes, 3 chime Nathan air horn with commpressor,
Air conditioning,Tool box in front, Package rack in rear, Tow hitches front and rear, Narcoa ready.
$5,000. Dave Hoopes, 15806 Opus One Dr., Bakersfield CA 93314 Phone: 661-587-4195.
---
FOR SALE (Jul 8) CA - Three (3) rail speeders and a HUGE 30 year collection of parts (fills a 8' x 20' shipping container).
Speeder #1 MT-14 with a CCKB engine. Engine has been rebuilt and has approx. 500 hours on it. Car is NARCOA ready and includes a full dash with Speedometer, Tachometer, gas gage, clock and oil temperature, foot pedals for both clutch and brake interconnected with the levers. Brakes are bonded shoes and the shaft is solid steel (not a hollow tube) Bearing blocks are solid steel with a inside groove for grease to flow around the shaft. Remote controlled electric winch is mounted on the front tow bar. Gas tank is a stainless steel 6 gallon custom made with float for the gage. Dual 40 pitch sprockets with drip lube unit. Large tool box is mounted on the rear of the car. All seats have seat belts. A Motorola radio with full intercom and 2 sets of David Clark headphones with mikes are included.
Speeder #2 MT-19 AA with a RKB engine. Engine was just rebuilt with new sleeves, rings, seals, bearings, shims and all stainless studs and nuts. Engine is mounted but still needs some final connections to run.
Speeder #3 MT-14 rolling chassis with CCKB engine and transmission mounted.
Collection of parts includes over 30 wheels, some shafts, axles, engine parts, numerous transmissions and parts, seals, side panels, doors, roofs, front and rear panels and much more.
Located in Northern California near Santa Rosa, one hour North of San Francisco.
Asking price for entire collection is $25,000. Cars/parts are available separately at a price to be negotiated.
For more information/photos contact Alvin Hasin 707 887-7181
---
FOR SALE (Jul 7) GA - Woodings CBI. 18HP Tecumseh engine. NARCOA compliant. New brake shoes, air horns, electric turntable, Motorola narrow band radio and Sigtronic intercom. Extras: 4 used, good, wheels, 5 gal under seat spare gas container, rebuilt alternator and starter, Puxing handheld narrow band radio, windshield wiper motors and arms (need to be installed) & utility basket. Needs 2 new motor mounts. Includes tilt trailer w/electric winch $6200 located in north
GA, Lynn Cardinal
---
FOR SALE (Jun 26) NY - Factory Fairmont turntable for an A4 gang car. The hydraulics will most likely need a rebuild but all of the parts are there as far as I can tell. I have a crate to ship it in and could be shipped for a pretty reasonable cost through Fastenal, but I would prefer local pickup if possible. My A car has a diesel engine which was too big to allow the TT to fit under the car which is why I am selling it. John Baio Location: Carmel, NY Cost: $2,500.
---
FOR SALE (Jun 23) GA - Railroad Push Car - Extra heavy duty railroad flat car for motor cars. New wood. Stored inside last 10 years. Cast wheels on one end. Two extra pressed wheels go with car. Will deliver for only my gas expense round trip. $600 Call Carl Hyman 706-455-0492 or email
---
FOR SALE (Jun 23) GA - ST2 Motor Car - This car was used by US Sugar. I have paperwork showing original information. Too many cars. Always stored inside. Never wet. Running when parked 20 years ago. Two extra wheels go with car. Will deliver for round trip gas expense. $1100 or best cash offer. Call Carl Hyman 706-455-0492 or email
---
FOR SALE (Jun 23) GA - Custom Built Motor Car Trailer - This trailer was custom built w/drop center axle, oak deck, loading ramps, electric wench, spare tire. Never used. Needs change. Stored inside. EZ lube hubs. Will deliver for round trip gas expense. $850 Call Carl Hyman 706-455-0492 or email
---
FOR SALE (Jun 18) NC - 1988 Chevy C3500 hy-rail truck. Originally delivered to Norfolk Southern and was used as a signal department truck. 350 V8, manual door locks and windows, automatic, 167, +++ miles, new valve cover gaskets, new TBI, new fuel pump, new front brakes and rotors, been string lined by Fleet Specialties, guide wheels all adjusted to 800-850 PSI per guide wheel, new front and rear bumpers, new aluminum treadplate over the front and rear hy-rail mechanism. Bench seat, ladder rack...although not shown in picture. Rides on the rail and drives on the highway quite well. $4,300 OBO. Rick Tufts, Aberdeen NC 28315, (910) 690-7079
---
FOR SALE (Jun 18) MD - Fairmont railroad work car - Partially restored. Car number 168380, Engine A1181A, Class 612, Series F, Group 6, Special 7. Located in southern shore of Maryland. Contact Kerry or Warren Mack 410-632-1901
---
WANTED (Jun 16) NY - Suspension kit or system for a Fairmont MT-14 speeder. James Keough, Cuba, NY
---
FOR SALE (Jun 13) WA -
Hood brackets. $25.
Flange brake hardware. $50. offer.
Rail sweep pair, SOLD
Ben Amodeo, Richland, WA.
---
WANTED (Jun 12) CO - F-3645 belt (4" X 95"). Pat Green, Longmont, CO
---
WANTED (Jun 9) IA - Bull gear for a pump car and possibly other parts. Victor Cross 319 470 7177
---
WANTED (Jun 9) NY - ST2, M14, CR7 with turntable. A cab would be nice. Mike Whipple Cell 315-256-3726
---
FOR SALE (May 23) GA - Two Nolan's carts. One is ready to go and the other needs work and I have 4 wheels for them that need bearings, Make offer. Stanley W.Wilson, Rockmart, GA 770-401-9358
---
FOR SALE (May 22) TN - 3 pieces of Fairmont 0307 hi-rail gear. Working when removed from the truck, recently but needs some TLC. Never been on the ground! This means that while it was on the truck, I never had any trouble with it jumping the rail.Good aluminum wheels, $250 for the lot. Does not include mounting brackets. No shipping. Randall S. Dyer, 865-475-9539 Jefferson City, TN 37760
---
WANTED (Apr 25) SC - A-4 Turntable - My A-4 is just to much work to turn around the way it is setup. I am looking for a OEM or kit Turntable for an A-4. I hope someone has one in there parts pile or on a parted out A-4. Contact me at 770-653-4780. Joe Macaluso
---
FOR SALE (Apr 18) IA - CN Personnel Trailer w/Brakes & 20" Wheels. Removable Seat Top w/Fold Down Steps Making For A Flat Top Trailer $2,000. Sorry no texts, steam powered phone! Contact: Chris Burke, Marion, Iowa 52302. Phone: 319-377-2244, Fax: 319-377-7070
---
FOR SALE (Apr 18) IA - Canadian National Car #199-01 NARCOA ready. Onan CCKB 2 cylinder engine, good running (newer battery, gas tank boiled and sealed, sliding rear window). $3,200. Sorry no texts, steam powered phone! Contact: Chris Burke, Marion, Iowa 52302. Phone: 319-377-2244, Fax: 319-377-7070
---
WANTED (Apr 14) ?? - Les King MT 19 Trailer or a light weight trailer made to the same specifications. Arnold Couch 253 273 2316
---
FOR SALE (Apr 11) QE - Excellent condition, 5 gallons s.s. gas tank , 2 winter wheels, new wiring & light, seats, new brake shoes Narcoa ready. Price $2,000 cdn. Contact Michel Raymond phone :819-396-0974, location : Drummondville, Que. Canada
---
FOR SALE (Mar 21) VA - 'Diamond C' brand, open cargo / utility trailer w/ electric brakes. Purchased January 2015 for my heavy mototcar, but never used. Highest quality - many extras [not an el-chepo homebuilt]. SPECS: Bed Dimensions: 6'6" x 10' - pressure treated pine decking. Weight - Empty 1500 lb, Weight - GVW 5000 lb, Weight - Max Payload 3500 lb. Tubular steel retaining guards. Electric Trailer breaks installed on wheel drums - includes a 7-way plug. Enclosed tail lights [can' be broken off or wires broken]. LED tail & running lights. Tires are 17" trailer tires [Less than 200 miles on them]. High Safety Hitch lock [totally encloses the ball]. Folding tailgate with pierced steel decking. Permanent tie down points and stake pockets. Screw jack leg. Spare tire mount installed. Heavy duty fenders. DuPont paint. $2,399.00 Located Springfield, VA (near DC) & I will deliver up to 100 miles – Free. Boomer John Schmidt CALL [No text] 703-569-5511
---
FOR SALE (Mar 21) VA - Parts For Sale - M car narrow style control plates. Fairmont part number M24881K. The plate measures roughly 6.25 x 13.25. They have been sandblasted and restored. $50 plus shipping. Long rail sweeps. For sale are two pairs of NOS long rail sweeps. They measure 9.5" from top of the pipe to the top of the sweep rubber. $120 plus shipping. M car control plates. Fairmont part number 46573K. The plate measures roughly 7.25 x 13.25. They have been sandblasted and restored. $65 plus shipping. Chris Helmer at (540) 355-2511
---
WANTED (Mar 21) MI - Looking for an enclosed cab restore project speeder. Dan Hoving
---
FOR SALE (Mar 21) KY - 2001 Dodge Durango HyRail. Excelent Condition, no rust. Nothing wrong with unit. Includes AAR Radio. Located near Paducha KY. Price $12,000 David Rangel
---
FOR SALE (Mar 21) ?? - MT19A - Due to recent back surgery I can no longer load and unload my MT19A motorcar. It is NARCOA compliant and ready to run. It has run in north Texas, Oklahoma, and Kansas. It is powered by an Onan Engine. It has new wheels with one run on them. Text to Mike Harker at (580) 374-5303 for more details. $4,500.
---
FOR SALE (Mar 21) MI - 1949 FAIRMONT M19 F2 Located in Portage, Michigan. This railcar has been restored from the frame up. It is NARCOA compliant with New wiring with fuse block, tail/brake and head lights, battery, brakes, paint, horn, drive belt, folding seats, seat belts, front glass, gas tank with tank shield, tow bar with pins and ROC engine rings. The C-5 Carburetor and the 6 volt generator have been professionally rebuilt. A brand new custom built 6'x 8' trailer with hand winch, spare tire, scissor jack and folding lug wrench is included. The ROC engine runs great. The railcar has not been on the tracks since restoration and the trailer has not been on the road since its delivery.

Additional EXTRA items included with above: Fairmont M19 service manuals, ROC engine in good condition, Rebuilt C-5 carburetor, New buzz box and Timer parts, Wiper motor, Used gas tank, Foot operated 10" bell, Wheel measurement tools, Safety helmets, vests and flags, NARCO Lanterns, C-5 rebuild kit, various spark plugs and gaskets. Asking $6,250. $5,000 Tom Kasinec, (269) 323-3102 More pictures on request.
---
FOR SALE (Mar 14) CO - 5 Fairmont tamper doors. Was saving them to inclose a A6 that I had, but sold the A6. Measure 40"x71". No glass in them. about 3/16" thick or maybe a bit under. $20 each or buy 4 get the 5th free. Local pick up. Will be on the Colorado runs in June. Brian Delaplaine
---
WANTED (Mar 14) MA - Wheels. Danvers, MA. Looking for wheels, email me what you have. J. Mazzie
---
FOR SALE (Mar 3) ID - 1955 M-19 UPRR speeder with history card and manual. Frame off restoration. Can furnish itemized list of parts replaced and pictures of restoration. Has been tested in my driveway, should not required much to bring it up to Narcoa certification. Asking $3,300 which would cover parts only (no labor). I am selling due to ongoing back issues. No trailer. Contact Paul West @ 208-423-4025
---
FOR SALE (Mar 3) WA - Pair of 'ditch lights'. Removed from a running U.P. MT-19. Made by G.E. Type 2A1. 12 volt sealed beam. No cracks. Buyer to pay S/H. Price: $50. Contact Bruce A. Ferguson
---
FOR SALE (Feb 29) CA - MT14 Canadian motorcar. Not NARCOA compliant. Needs work.
Asking 2,500.00. Philip Carey, Mount Shasta, Ca. 530-926-4153.
---
FOR SALE (Feb 29) CA - MT14 motorcar. It has a turn table and is NARCOA compliant.
Asking 5,000. Philip Carey, Mount Shasta Ca. 530-926-4153.
---
FOR SALE (Feb 29) CA - MT19 motorcar. It has an Onan Engine and is NARCOA compliant.
Asking 5,000. Philip Carey, Mount Shasta Ca. 530-926-4153.
---
WANTED (Feb 23) OH - MT-19AA Right Hand Door - with glass and latch. Hhinge not a concern. Mark Lathrop, Cell 419.346.1632


---
FOR SALE (Feb 8) GA - Personnel trailer - with 20-inch pressed wheels at least 1/4" thick. Used on trips for many years down south and tows better than a lot of motorcars. Seats 8 people on upper level. Brakes on all 4 wheels controlled from single lever but do need rebuilding. Trailer has large storage area under seating area good for tools for work trips. More pictures HERE. $1,202. Located just north of Atlanta, Georgia. Contact Bill Stringfellow, 678.576.0509
---
FOR SALE (Feb 3) CA - Fairmont MT14 Narcoa compliant clean reliable car. New 6 ga. stainless gas tank - electric turn table - new Icom pre-programmed radio - new Optima battery - comes with new RV type aluminum slider windows for each door (not installed), manuals and original CN first aid kit. $6,000. Located in northern CA. (Mendocino). Contact Steve Wells at 707 813-8331 or 707 937-3827.
---
FOR SALE (Feb 3) BC - "Modern Track Machinery", Ex-C.P.R., Very Rare, only ten built! Possibly only one of two still operating.?. Fully restored in 2001 but never operated on rails. Motor runs Excellent!, Factory Turntable, 22hp Onan, 1670lbs., Jeep Hinges on Doors, Custom Trailer Single Axle. No radio equipment. NOTE: If you don't want the trailer, you can subtract $1000, W/Trailer, $10,000 us funds, (O.B.O.) Serious buyers only. Cash preferred, Pay-Pal accepted as well. *No foreign buyers (Spammers) need inquire!* Canadian & U.S. Citizens only!! Mike Bellefontaine
---
FOR SALE (Jan 23) WA - Fairmont S-2 "flat top".built in 1956 for U.P. Have history card. Restored. 6-volt using coil. Very clean car. Will pull any grade out there. Complaint of course. I need the room. Price includes a smaller Fairmont 8 horse Fairmont 'core engine block'. ROC ? [no generator/carb]. Car is 30 miles north of Seattle. $1,800. Contact Bruce A. Ferguson at 360 568 5424. One nice S-2. Have more pictures.
---
FOR SALE (Jan 23) QE - Fairmont 1952 Gang-car. Engine - Waukesha 4 cylinder. Transmittion 4 speeds manual (both direction) Passenger: 2 or 3 (variable configuration). The machine is Narcoa compliant, modification: composite brake shoes, dash, seats, body, suspension (coil spring + gas shock absorber), manual turntable, wiring, lights, and more. Reason for the sale: no place to keep it must be sold. Michel Raymond, Drummondville, Que, Canada
---
FOR SALE (Jan 7) WA - Great Northern M-19. Brass Tag # G.N.2926M. This car is museum quality and NARCOA compliant. NEW: wire, lights, battery, brakes, paint, horn, belt, seats, exhaust, glass, timer/points, Carb rebuilt. 12 volt system with generator. Zero hours after restoration. Side and back curtains. [extra set also]. Two way 'dog' on crank. A very tight and clean M-19. Best of the G.N. cars out there. Price: $4800. Contact Bruce A. Ferguson at 360 568 5424
---
FOR SALE (Dec 12) TX - One lot M19 parts $500
1. ROC Engine. Missing belt pulley, carburetor & timer cover.
2. Left & right aluminum side panels.
3. Front safety rail and support frame.
4. Left & right fenders & running boards.
5. Complete sets of brakes for four wheels.
6. Five gallon gas tank inc. filter.
7. Front mounted tool box.
8. Tow hitch. Raises M19 frame to M/MT14 hitch height.
Ron Peterson, 2212 Ridgewood St., Carrollton, TX 75006 (972)-416-5593

---
WANTED (Nov 30) ?? - MT19 w/enclosed metal cab. Need light weight trailer for the MT19 also. Call Arnold Lee Couch at 253-273-2316 or email. Send current pictures and describe condition. Will travel.
---
FOR SALE (Nov 23) PA - Woodings carb parts lot:
1 walbro LMH rebuilt carb
4 Walbro LMH carb rebuild kits
3 Walbro throttle valve
2 Walbro floats
2 needle fuel valves
1 main jet
15 idle secrew springs
6 fuel jets
2 Walbro LUA float valve kits
1 Walbro LUA carb kit
Pictures on request. $225 shipped for the lot to lower 48
Paul Sternitzke, Hallstead, PA Phone: 845-857-4646
---
FOR SALE (Nov 23) PA -Fairmont/Onan parts:
1. Onan ignition coil new style 12 volt NOS $70
2. New clutch and pressure plate (very light rust from storage) $150
3. NOS onan cckb motorcar engine mounting plate. $100
4. used onan fuel pumps $30 ea
5. new starter for cckb $150
6. NOS onan cckb engine to tranny adapter plate $75
7. NOS onan rear bearing plate for CCKB engine $75
8. assortment of New pistons and rings for cckb engine $60 ea
9. CCKB heads $40 ea
10. Rebuilt c-8 carb $175
11. RO/OD alternator pulley $60
12. NOS fender step plates $60ea
13. Rebuilt ROC water jacket $70
Pictures on request.
Paul Sternitzke, Hallstead, PA Phone: 845-857-4646
---
FOR SALE (Nov 13) MO - Complete Railway Canada in need of full restoration. Located in SW Missouri near Branson. $1,500 Call Ed Hoefler at 417-858-0338.
---
FOR SALE (Nov 13) MO - Woodings CBI - with Factory Turn Table, and completely dis-assembled restoration. Has been on approximately 600 miles of runs after chassis rebuild. Everything has been taken apart and rebuilt or replaced, except the 18HP Tecumseh engine. Engine runs well has rebuilt carburetor and new fuel pump along with a full tune up. Cab has had all the fiberglass repaired and reinforced. All that is needed is to have the body work finished and painted. As all have experienced, life changes directions, and have not been able to find time to complete. Asking $5,000 OBO. Located in SW Missouri near Branson, call Ed Hoefler 417-858-0338
---
WANTED (Nov 12) ?? - MT14. Have recently joined Narcoa. Looking for a MT14 either open or closed. Robin Hudson at 302-270-8892 or email.
---
FOR SALE (Nov 2) WV - 1948 M9 Fairmont Speeder Special 24 with Fairmont water cooled rebuilt engine. Asking $2,500. Charles Duffield @ 304-872-1166.
More Stuff
CLICK HERE to continue to the Motorcar Parts & Accessories Page