Advertising on this page is for NARCOA members only. Ads must be for motorcar related items - no general railroadiana. NARCOA members may email full name, the location of the advertised equipment and a description to: webmaster@narcoa.org. One picture per ad in .jpg format. Do not use all CAPITAL LETTERS or all lower case. Capitalize and punctuate properly, as ads are cut & pasted. Ads are posted for 120 days. Please send ads as email text and not as a word processor file.
If you advertise on this page, you will receive offers from scammers. Click Here to find out how they operate.
---
---
FOR SALE (Jul 31) QE - A5-C 1952, complete and many custom builds parts installed, also includes a twin axle hydr. brake trailer with winch & 1 ton crane. The trailer was built for this machine. $6,000. cdn. Location: Drummondville Que. Canada (close to Montreal) Michel Raymond tel:1-819-396-0974
---
FOR SALE (Jul 28) IA - MT-14L. This speeder has about everything you would want. Features are to numerous to mention. NARCOA compliant. More pictures upon request. Asking $6,800. John Duden - 515-262-5564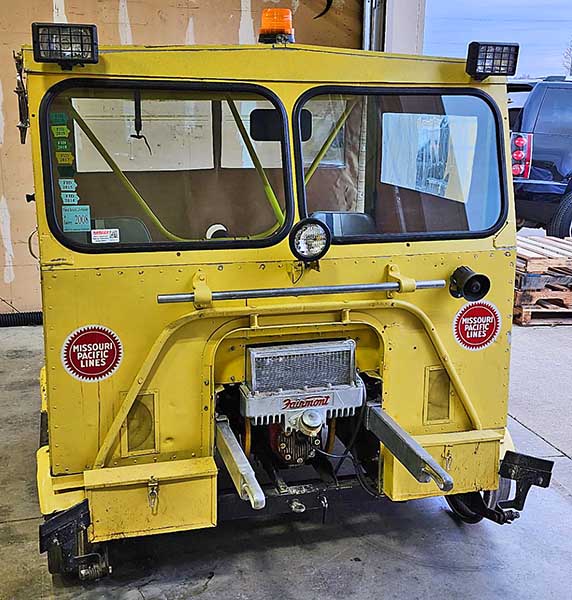 ---
FOR SALE (Jul 26) WA - MT-19A. Good running car with many new parts including rear axle, sprockets, chain, exhaust/spark arrestor, battery and more. Quick starting Onan CCKB motor with rebuilt carb. Car ran on excursion last year and is Narcoa compliant. Car is ready to roll on the rails or a good project to add your finishing touches. Asking $3,700 or best offer. Dennis Saranto 509 876-6250.
---
WANTED (Jul 20) PA - Fairmont A3 Metal cab - Looking for this type metal cab for my A3 Fairmont. As complete as possible and also close to PA if possible. Carl Starr, Montoursville, PA 17754
---
FOR SALE (Jul 17) WI - MT-19 Car is located in Star Prairie, WI about 30 miles east of Minneapolis MN. I bought this car last fall from a Narcoa member that had gone on many excursions over the years but had to retire from the sport due to age and health. He kept it in storage for many years and finally parted with it. I spent the winter checking it out and did the following, acid cleaned and repainted the fuel tank, new OEM starter, new coil, new fuel line, new spark plugs and wires, also changed all fluids, lubed and checked out all bearing on chassis. Wheels are good with many years left on them. The car is Narcoa compliant and has a turn table. Just this week I took the car on a 52 mile run and it performed flawlessly. Asking $4,300 obo.Scott Staples
---
WANTED (Jul 17) IL - Motor car axles or cart. Does not have to be perfect but functional. The closer to Illinois the better! David Hepler (217)-416-2201
---
FOR SALE (Jul 9) QC - MT-14 Motorcar. located in Lévis, Quebec, Canada. $5,000 including trailer. Louis-François Garceau, 5408, rue de la Rapsodie, Lévis, QC. (Canada) Phone: 418-832-1502 Mobile: 418-955-2466
---
FOR SALE (Jul 9) QC - MT-14 Motorcar. located in Gaspé, Quebec, Canada. $3,600. Louis-François Garceau, 5408, rue de la Rapsodie, Lévis, QC. (Canada) Phone: 418-832-1502 Mobile: 418-955-2466
---
FOR SALE (Jun 24) WA - Former CP Railcar Canada - Two passenger Model: CBL, Series: 82, s/n: A097. Has Railcar Canada's continuously variable V-belt transmission. Runs great and is fully NARCOA compliant. Includes new Les King turntable kit ready to install. Custom built tilt-bed trailer included makes loading and towing easy. Car is 79" long overall and 63" wide. $5,900 Doug Auburg, Battle Ground, Washington (near Portland, OR) 360-608-3802
---
FOR SALE (Jun 24) OR - MT19 Parts - Rear panels, glass with all felt and rubber. I will be at the first Coos Bay run in Sept. John Daniel Call 509 588 5397
---
WANTED (Jul 3) PA - Fairmont ROC motor for my M19, running would be nice but not necessary. The closer to Northeast PA the better, just makes pickup easier. Mike Feddock
---
WANTED (Jul 3) PA - A-4 D manuals - I am looking for an A-4 D manual either original or copied, I will pay you to copy yours if you will. Bob Muma 484-678-2670
---
WANTED (Jul 3) WI - Used speeder/railcart wheel for display. Can be cracked or worn out. Must be cheap! I am located in SE Wisconsin. Ron Pataska. 8763-3rd Avenue, Plesant Prairie WI 53158
---
FOR SALE (Jun 24) CA - M19AA - Ex Rio Grande popper that is mechanically sound and climbs hills like a shot. When stored a few years ago, it was NARCOA compliant with good wheels, brakes, belt and is mechanically sound. As you can see, it could use some cosmetic work. The last guy to wrench on it was Larry Shaw in California. The owner is a friend who asked me to list it to help her pay medical bills. Contact me, Grant Vogel, and I will forward all inquiries to the owner who has on and off days due to chemo. The car is located in Sutter Creek, CA and if need be I will bring it to my ranch in Plymouth CA. Asking $4,000 for the car without a trailer.
---
SOLD (Jun 7) IN - 1996 GMC 3/4ton, extended cab Hy-Rail truck, (Fairmont 0307) 2x4, 5.7 Lt V8, automatic (transmission needs work) 174,000 miles. This item belonged to long time NARCOA member John Fetter who passed away last summer.
---
FOR SALE (Jun 7) TX - MT-14 Complete Restoration. – Price Reduced to $5,700.00 – An $800.00 Discount to Cover the Cost of a Turntable.
This speeder is in "Like New" condition. You just don't find a speeder in this great condition anymore. This car has a strong running Onan B48G engine, I installed a clutch pedal kit that eliminates the clutch lever, rebuilt the carburetor and completely rewired.
I installed the following new items:
(1) New Chain, (2) New alternator, (3) New points and condenser, (4) New control panel switches, (5) New 6 gallon stainless steel fuel tank, (7) New steel engine tunnel side panels, (8) New steel floor panels, (9) New birch custom made engine covers, (10) New handholds, (11) New battery, (12) New strong sealed beam headlights, (13) New electronic beacon, (14) New LED tail and stop lights, (15) New electric fuel pump, (16) New frame, chassis and body hardware, (17) New rail sweeps, (18) New front and rear bumpers, (19) New wheels, (20) New Wheel Bearings, (21) New brake linkage, (22) brakes and brake hardware, (23) stainless steel door hinges, (24) door handles, (25) tow-bar, (26) seat frames, (27) thick seat cushions and (28) New Wiper Motors and Arm's /Blades.
The body is sealed and freshly painted with urethane single stage paint, the interior body is painted with epoxy paint. I completely dis-assembled this car, inspected every component and sub-assembly and replaced anything that was questionable and then re-assembled with all new hardware. This car comes with the engine manual and the MT-14 Fairmont manual. This is an outstanding MT-14 motorcar that will provide you with many years of trouble free operation.
Located in the San Antonio, Texas area. I have an extensive library of digital pictures of all phases of the teardown, restoration and reassembly. I can assist with transportation concerns you may have. You can contact me by phone at (210) 316-1883 or by email Frank Hamadock.
---
FOR SALE (Jun 5) SD - MT19 - Bought this car a couple of months ago and then found another one with a turntable. Has been on NARCOA excursions in the past but I haven't even had the time to go over this one yet or run it on the track. Starts good and has great oil pressure. Want to get my investment out of it. Call with any questions and I'll try to answer although I don't know much about it. $4,600, David Voeltz, Pierre, SD 605-280-5551
---
FOR SALE (Jun 2) MS - MT14 project car - Canadian MT14L all taken apart and ready to be sandblasted, painted and put back together, all glass for cab. is good except driver side has crack, Onan motor turns freely, bearings all good and turns, wheels has great profile and thickness, all doors good with glass. Call for photos. $1,200. James Moore, Waterford, MS Phone: 662-306-0253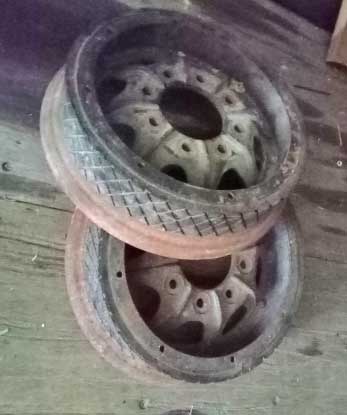 ---
FOR SALE (Jun 1) BC - Fairmont CR7 This car is in running condition. It has been a few years since it was on the track. The car is complete, no parts missing. The engine runs well. It is an ex CPR car that I purchased from the Railway Asking $1,500 USD OBO Robert Douglass 10718 Seaton Rd. Winfield B.C. Canada V4V1K4 PH#250 766 3833 Trailer is not included.

---
FOR SALE (Jun 1) BC - Fairmont M19 in Excellent Condition Has been on many Narcoa runs Comes with New hydraulic turntable that was installed last year The car is Narcoa ready. Asking $6,500. usd Robert Douglass 10718 Seaton Rd. Winfield B.C. CANADA Ph.#250 766 3833
---
FOR SALE (May 29) GA - Fairmont A-4E Parts - Roof in good condition and ready for paint.
$200. 10 gallon fuel tank $150. rear panel and bracket. $150. Ben Harrell 770-235-0487
---
FOR SALE (May 14) OH - Woodings - Rebuilt transmission runs good and rides better. Car has original engine that runs great. Tilt trailer included. $6,000. Can help with delivery. Ted Poesse 440-804-4099
---
FOR SALE (May 3) NH - Speeder Trailer - $500 or BRO. Looking to get into the hobby and not drop $1500 on a trailer??? I am selling my 1991 Load Rite double snowmobile trailer. This is a fantastic deal it was re-decked this spring , it got a set of new load star tires in October 2014 and a load star spare. The wiring is a four flat connector that was rewired a couple years ago and it has a 2 inch ball. Also included is a custom-made steel triangle that holds a manual boat winch but also has holes drilled in it to take a electric ATV Winch from Tractor Supply Company . The trailer does fold, but I never really use the folding feature as I used to haul my MT-19 on this. The reason I am selling this is I bought a utility trailer to better suit my needs. Jesse Mazzie 978-223-7364.
---
WANTED (Apr 28) CA - Brake Parts for Fairmont A-4 Looking for these two pieces for my brake linkage on my A-4 (only need one set). Mike Quezada 559-250-5427
---
FOR SALE (Apr 24) TX - MT-14/19 Transmission - Came in a box of parts with my motorcar. Don't know the history. Looks to be in good condition. A little surface rust but there is still lube in it. Everything spins, low/high works, but stuck in neutral on F/R. Additional pics available. $1,000 plus shipping. Greg Michelin, 8172471651
---
FOR SALE (Apr 20) NJ - Fairmont MT14L NARCOA compliant with Trailer. Onan CCKB 2 cyl Gas Engine (New carb, rebuilt fuel pump, new gas tank). Electric Turntable with audible warning, 4 Seats, Tow Bar, Flags, Wheels and brakes are in good condition. Trans Hi/low with reverse.
Trailer: Year 2001, 2 axle 7000lbs, Electric winch, Backup lights for night loading, Tires in good condition, Lights all work. $8,200 Ben Santucci 973-998-1615 Please no text messages.
---
FOR SALE (Apr 16) CA - 1942 S2E - In great shape - $2,500 obo. Complete Car except needs belt. Has a "leather" belt for test drive purposes only, not for long runs. Headlamp detached, have separately. Starting crank included. Last ran about 2004. Has been stored indoors in a clean, dry garage for 10 years. Stored last 1 year in a dry backyard shed. Was put into dry storage in running condition. Seats easily removable if you like it "stock". Have a windshield with perfect glass and a "peaked" roof sold separately. Take the package of all three for $3500 and make a cab. Can deliver to you for FREE in most areas of CA. Other states for a fee. Have additional photos. John Erdkamp (408) 643-4418
---
WANTED (Apr 6) AL -16" Rubber wheels for MT-14. Jerome Mallory, 21100 Rabren Road, Andalusia, Al 36421 (334) 300-6378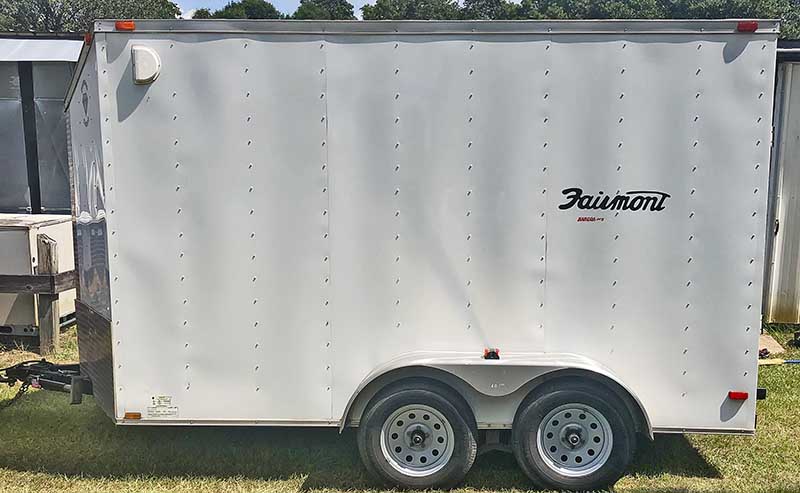 ---
FOR SALE (Mar 31) GA - 4 Used 20" wheels in good condition.1/4" flange thickness, profile good.
$2,000.William Thompson, Blakely, Ga. 229-723-8231
---
FOR SALE (Mar 26) GA - RQB Engines These engines came out of S-2 Fairmont Cars. $ 250 for the one with the pulley. $200 for the other one. William Thompson, Blakely, Ga. 229-723-8231
---
FOR SALE (Mar 16) PA - Buda 19L - Sell or trade. Car was built on Jan 24, 1942. Powered by a Buda model E, 8 hp two cylinder opposed engine and a friction drive with 5 speeds in ether direction. Has a very strong Eisemann magneto. Car is Narcoa ready. I hate to sell it, but its time to let someone else enjoy it. Extra engine available. $5,500 without extra engine. $6,200 with extra engine. I can help with delivery. Car located near Oneonta, NY. More pictures on request. Paul Sternitzke, Hallstead, PA. Phone: 845-857-4646
---
WANTED (Mar 11) CO - M14e Parts - Working on a 1937 M14e, needs the following parts:
1x M11410 Demountable hub. aluminum. Picture included.
1x M19941a "Mail" (called in manual) outer axle bearing assembly. aluminum. In the picture.
3x M16716 Wheel Guard. Don't have a picture, parts missing, found them in the Fairmont manual
1x M21016a Right front wheel guard. This I believe has a hole in it for the Crank. again no picture.
1x M16724a Brake rod bearing. aluminum. Would like to find one with the number stamped into it.
Brian Delaplaine cell: 303-589-7528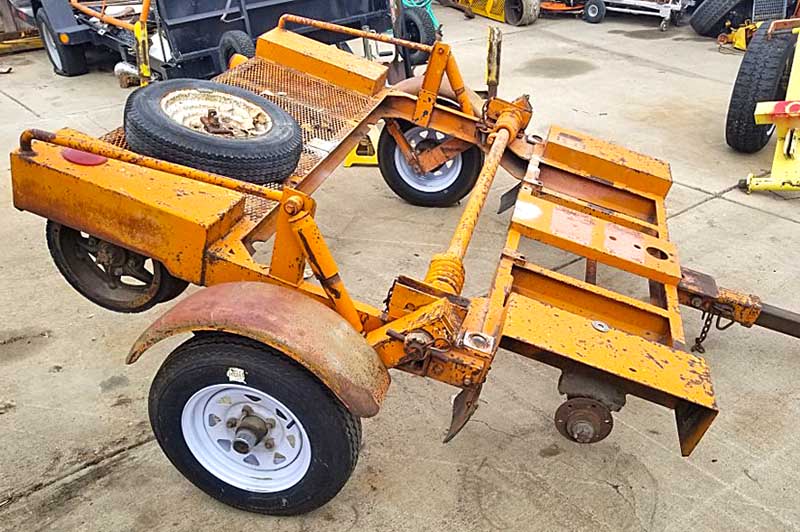 ---
FOR SALE (Feb 25) IN - Fairmont Motor Car Exhibit: This vintage Fairmont Motor Car is an M-19 (four man car) and was originally from the C & O Railroad. It has been restored to running condition and has been used on short line railroads for brief excursions. The Trailing Car has a tool box and has also been restored. It comes in handy on long trips! There are spare parts (Flywheel, belt plugs, etc.), the vintage drawbar and the rails and ties can be included in this exhibit. New Price $3,500. We are located in Morgantown, Indiana. Brown County Railroad Museum. Other pictures are available and if you would like to talk to a real person call Bob Young 317-626-7108.
---
WANTED (Feb 24) WA - MT19 with doors, turntable and narcoa ready with light weight trailer. Looking for a metal cab, no fiberglass. Tacoma, WA. Will travel. Arnold Couch 253-273-2316. I am limited as to what I can pull. Call 24/7 I am retired
---
FOR SALE (Feb 09) PA - Buda B&O pump car - 1943 buda model #1 hand car. Car has loose wheel to help turn car around and track better on curves. Also has bevel drive gears and roller bearings. Odd that such a car was built so late. Car is very nicely restored. Car has original build tag. Wheels are very good. Not very many buda pumpcars out there. Asking $9,500 Pictures on request. Paul Sternitzke, Hallstead, PA 845-857-4646
---
FOR SALE (Jan 24) TX - Fairmont S2 – Fully operational. New wheels. Wired for brake lights. Will need a headlight and battery. Good seats, refinished motor cover. Motor has good compression and starts easy. Included is a decked trailer with excellent tires and wheels. Extra new belt, spark plugs, plug wrench, fire extinguisher, and crank included. $2,800. Car is located in San Antonio, TX and is being sold by Railroad Partners, Inc. (a 501c3 non-profit) Contact Leland Stewart, 210-863-5397
---
FOR SALE (Jan 15) CA - Speeder Trailer - Custom Speeder trailer with winch, new battery, new tires with spare, new hubs and bearings. Will fit MT19 perfectly. asking $500. Terry Reinig, Acampo, CA 95220 Phone: 562-489-4829
FOR SALE (Jan 11) OH.- NAPA 21578 SPARK ARRESTOR. Arrestor is new, never used or installed. Has 2 3/16" OD inlet and outlet and 2 1/16" ID. It's 11" long and 6" in Dia. $90.00 includes free shipping within continental US. Jeff Levengood
---
FOR SALE (Jan 11) PA - 1920's Fairbanks Morse 40-B. Reportedly ex- Reading. Was restored to running condition approximately 8 years ago. Comes with spare parts engine. Asking $2,250 obo. Car is located in Southampton, Pa. Call Kyle KIng @ 215-200-6614 for details.
---
WANTED (Jan 1) ?? - Used Fairmont 16" Wheels - Looking for used Fairmont 16" x 5/16" x 4 1/2" wheels. Wheels do not need to meet NARCOA specifications but cannot be cracked. I would also consider used cast wheels with same bolt pattern as the Fairmont wheel. I am willing to pay a fair price and will come pick them up. Contact: Charlie Cowden at 218-343-5840
---
FOR SALE (Dec 19) MI - Lot 1: Fairmont gang car. Believed to be A4. Engine runs. Undercarriage, wheels, axles sandblasted & painted. Radiator leaks fixed. New gas tank. New oak deck boards to go. Old boards for patterns: $1,400. Lot 2: Road trailer: $300. Lot 3: Wheels and axles for RR tool trailer, sandblasted & painted: $350. For 10 pictures email Bill Swart. Phone 989-772-3171
---
FOR SALE (Dec 10) OH - Onan Shift Knobs Limited number of shift knobs available to fit the MT-19 and MT-14 shifters. They are identical to the original Fairmont knobs except the color. Threaded 1/2-13 they are the same size and shape as the originals. They are black in color, Fairmont used a reddish brown. $8.00 a pair, post paid within the US. Jeff Levengood
---
WANTED (Nov 14) Australia - New ROC Engine 1-1/16" Piston Pin Bushes, Fairmont Part Number 51944. I am after a minimum of two. Please email Mark 'Stew' Swaby. Melbourne, Australia.
---
FOR SALE (Oct 23) CA - All original UPRR MT14. Runs great. Very straight body. Onan CCKB. Thick wheels with good profile. $5,000. Located in the San Francisco Bay Area. John King 707 763 7023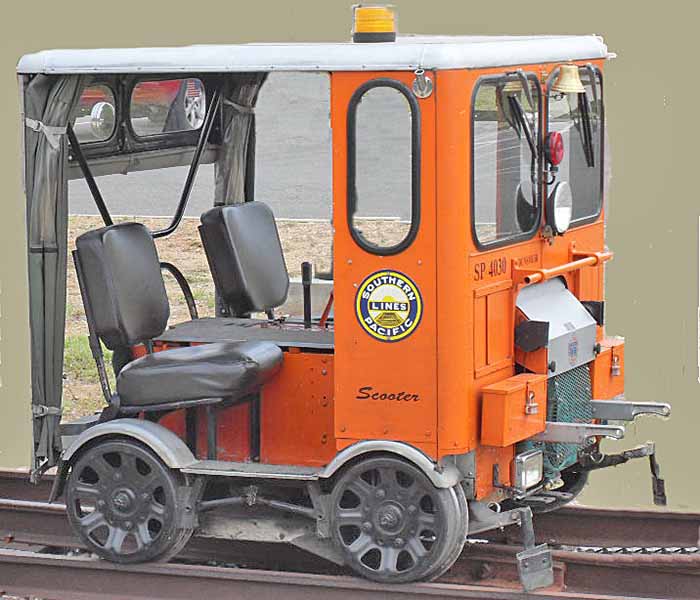 ---
FOR SALE (Oct 16) NJ - MT14 Cab and Chassis In time for a winter project. Good wheels, axles, frame and cab front with two windows (one cracked). Add engine, tranny, some TLC and have it ready for the rails in the spring. Wife says I have too many projects including DeLoreans, and I need the space, so it has to go! First $675.00 gets it! Contact me for more info. Craig W. Hartman, Kinnelon, NJ 07405 973-838-4456 or 3628
---
FOR SALE (Oct 11) OH - MT-14. M-14 and S-2 suspension business opportunity. Sale to include remaining inventory, patterns and drawings. Note! inventory does not include all parts needed to make a complete unit, some new castings will have to be made. For additional information email Alan Wilber
---
FOR SALE (Oct 11) CA - Fairmont ROC Engine - Complete with, generator, buzz-coil, stabilizing brackets, and all engine mounting bolts w/springs. I used this engine in my narrow gauge car until I completed rebuilding and installing a RKB. It has performed well on two trips to D&S and C&TS. It pulled well on Cumbres. $900. Alan Borchardt, 2462 Travis Ct., McKinleyville, CA 95519 Phone: 707-839-0636
---
WANTED (Oct 6) FL - Turn Table (used or new) or Plans for making one for A-4 gang car with Pinto engine. Call or email. Steve Hall (Live Oak, FL 32060) Call 1-386-330-2566 after 10AM up to 10PM eastern time any day
---
FOR SALE (Aug 24) CA - One of a kind, custom built A4E. Renovated and redesigned by a long-time motorcar operator and owner over the past 15 years. "Daisy" is a passion meant to reinvent the motorcarexperience, whether providing plenty of space to share with others on long runs, short runs with your extended family and friends or at rail fairs while sharing your passion with the public. From the cab-forward engineers seats to intricate wood panel ceiling and cupola, sliding rear door to the brass-rail stanchion and to her insulated aluminum body, you're guaranteed to enjoy every minute on (and off) the rails with Daisy. Other features include automatic transmission, 20-inch wheels, hydraulic turntable, antique streetcar bell, and dual passengers bench seats covered in lush velvet. Now, it's time for you to carry on the legacy. This "bobtail" style motorcar is being offered for 32.5K. Richard Corbell 415.602.3441 More pictues HERE.
---
FOR SALE (Aug 18) OK - MT19-A Due to medical condtions, I must give up my motorcar running. wheels have three runs on them, Engine is Onan, the car has curtains all around. The car is off the UP at Phoenix, AZ The car has been run mostly in OK and KS $5,500 firm. Mike Harker 580-374-5303.
---
FOR SALE (Aug 18) NE - Estate sale. The two Fairmont motor cars shown in the photo were last used in NARCOA excursions about ten years ago. The craftsmanship of the previous owner is exhibited in such items as the wiring and woodwork. The engines turn freely. The lighting is powered by 12 volt alternators and batteries. These units have always been stored indoors. The smaller unit has metal lifting handles not shown in the photo. In addition to the items pictured, a spare Fairmont engine (not seized), motor car running gear, and cab sheet metal is available. Prefer to sell all items in a package for $8,000. Charles L. Sedlacek. Suburban Omaha, NE. For more information call 402-679-7006.
---
FOR SALE (Aug 13) QE - ST 2. (The motor don`t have the carburator and the generator).
Price : $1,300 USD Jean Pierre Ouellet phone 819-359-2745
---
WANTED (Aug 12) SK - 4 pizza pan roof corners in good cond. Wayne Wilson Eatonia, SK. Canada
---
SOLD (Aug 9) FL - 1995 Dodge Dakota Hyrail - 4x4 5.2 Extended cab. Narcoa ready. Current FRA inspection, Narrow band Icom radio, Fairmont 0305 manual rail gear, Mechanically like new - Everything replaced from front to rear. The perfect truck. 105,378 miles. $9,500 OBO.
---
WANTED (July 27) FL - Small car or pickup HyRail. Will swap MT19A on trailer, NARCOA ready or buy outright. Add Austin 863 674 0647 S W Florida area.
---
FOR SALE (July 16) WV - New in box - Vanguard Commercial Power (Briggs & Stratton) 23 HPIncluding Bell Housing, Manifold ,Output Shaft. Everything you need to replace your old engine.
$3,000 / OBO Mike Green cell 304-671-8243 or 304-274-1216
---
FOR SALE (July 7) NJ - 1928 Sheffield 40-B - Everything works fine, runs great and is Narcoa ready. Asking $3,700 OBO, Terry Mitchell1-609-861-2735
---
FOR SALE (Jun 25) CA - Fairmont MT-19 This car was in storage for 5 years when I purchased it. It is one of the last speeders made built in 1981 for Cotton Belt RR. It is NARCOA compliant and was used on a run in Jun of this year. It has been well maintained and in great running order. The Onan engine has 790 hours on it starts real easy. Comes with an extra set of brakes and GPS. The trailer has an electric winch. Asking $4,500. Terry Reinig
---
FOR SALE (May 17) GA - Fairmont ST-2 Runs Great. NARCOA Ready. Manual operated Center Mounted Turn Table. Call or email for more info $2,000 without trailer Will Thompson, 229-723-8231 Blakely, Ga 39823
---
FOR SALE (May 10) MI - MT19 complete, restored appx 10 years ago. CCKB runs good, on excursion last lear over 150 miles. new les king seats, double roller chain, side doors, narcoa ready $3,900 Eric Keough 906-360-9960
---
FOR SALE (Apr 30 ) MI - Historic 1942 Fairmont open M9. First owned by the Chicago and North Shore RR, it was later purchased by the Lake Superior & Ishpeming (LS&I) RR and finally the Marquette and Huron Mountain RR. This car has an ODB engine restored in the late 90's plus a second ODB engine restored by Eric Schwandt. Other parts come with it plus a custom-built low-profile trailer. Amazingly light, this is one of the most fun cars to ride on a 1-day or weekend excursion. Asking $3,000. Call Walt Anshutz at 989-621-3158
---
More Stuff
CLICK HERE to continue to the Motorcar Parts & Accessories Page