Advertising on this page is for NARCOA members only. Ads must be for motorcar related items - no general railroadiana. NARCOA members must email full name, the location of the advertised equipment and a description to: webmaster@narcoa.org. One picture per ad in .jpg format. Do not use all CAPITAL LETTERS or all lower case. Capitalize and punctuate properly, as ads are cut & pasted. Ads are posted for 120 days. Please send ads as email text and not as a word processor file.
If you advertise on this page, you will receive offers from scammers. Click Here to find out how they operate.
---
---
FOR SALE (Dec 6) ON - CN 139-08 MT-19 This car was received in "from the RR" condition but complete. I changed out the engine with my spare as the original was seized and it now starts and runs well. Transmission and drive are good and also sealed the gas tank. Body needs one front and one door glass and both seats. This would make a good winter project car for someone new to the hobby. Car presently located in Windsor ON but it could be moved to Michigan. Asking $2,000. US cash. A few more pictures are available. Contact Ken Annett 519-969-8695
---
WANTED (Dec 5) IN - Gyro-light assembly similar to the one in photo below. I don't mind project/fixer-upper. Call or text Eric Thompson at 812 350 9984.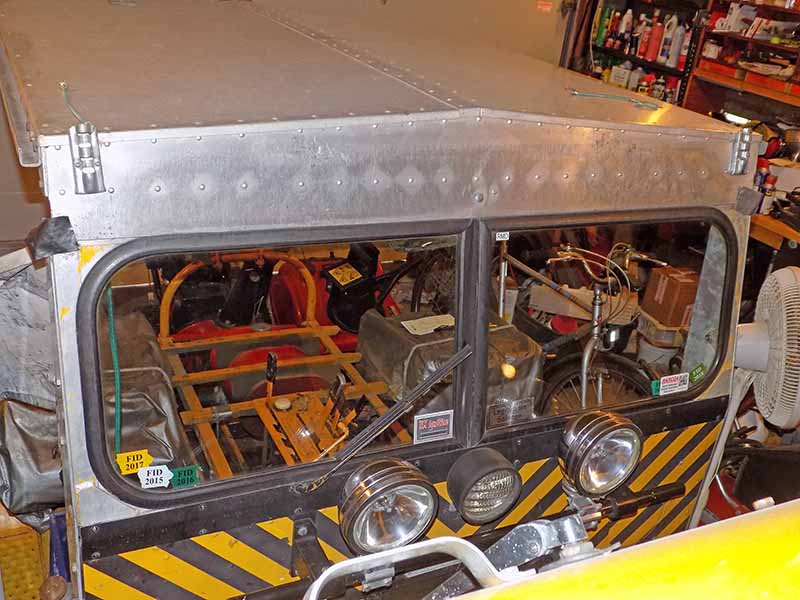 ---
WANTED (Dec 1) MI - Fairmont TH1 or TH2 highway trailer; the TH1's were the lighter duty trailers and were meant for track inspector cars while the TH2's were heavy duty and meant for heavier cars like gang cars. Call/text Aaron Farmer at (248) 808-1329.
---
WANTED (Dec 1) AR - Nolan cart wheels in good condition, I paid $60 for 4 wheels in fair condition they needed bearings. Email me Jeff Kennedy
---
FOR SALE (Nov 27) NY - MT14 $8,300 with a set of new wheels or $7,500 without new wheels. Kalamazoo $4,500. O&W RR M19 AA no cab or seats $2,500 plus parts lot. For information email Michael Whipple.

---
FOR SALE (Nov 24) CA - Fairmont A4. Great Condition. 4-cylinder Ford Industrial engine. 4-speed transmission, equipped with Fairmont reversing hi-speed rear end. Seats 4 – 6 people. Dual head lights (front & rear). Fitted with custom-built hydraulic turntable. Has front winch plus high lift jack. NARCOA ready. Tandem axle trailer with high capacity electric winch and built in rails not included but can be available. $2,800 for the A4 Contact: Miguel (Mike) Quezada, Rocklin, CA
---
FOR SALE (Nov 24) MI - M-19H. Due to health reasons I must sell one of the nicest 19's I have ever owned. This car ran the 1,000 mile Alaska RR. excursion trouble free. Climbed the Hill City grades unassisted. Ran the C&M RR this year. Runs excellent. Jim Eble, Manistee, Michigan. (231) 510-7754.
---
FOR SALE (Nov 13) NC - MT14. Needs some work. Has not run in 5 years. Has been kept in my Garage. Hydraulic turntable. Former Rio Grande car. Tool Box mounted on rear lift bars. Wired for Radio and intercom. Please contact Mark Batenic for more pictures. Car in on the Outer Banks of North Carolina. Asking $3k as is where is.
---
FOR SALE (Nov 13) PA - Les King motor car seat new unused $195. For info call Jack Boorse 267-750-8320
---
FOR SALE (Oct 25) VT - CCKB engine, complete with carburetor, alternator, starter, coil, etc . . . No transmission. I purchased a CN MT14 a couple of years ago and I'm in the middle of a frame off restoration of that car. I purchased a new (rebuilt) engine for the car and now have this one sitting around my garage. I bought the car basically straight off the railroad. I never ran the engine on an excursion. The engine did start and run in November 2016 when I removed it from the car. As I never ran this engine on a run all I can tell you about it's condition is that it did start and run. It is sitting on a pallet in my garage. I have photos for anyone interested in it. Asking $600 Contact Tom Sopchak at (802) 578 - 7427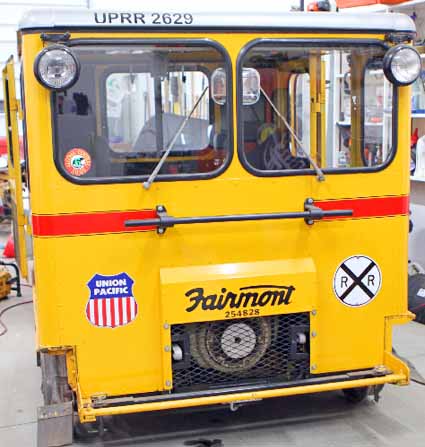 ---
FOR SALE (Oct 19) NM - Skeleton motorcar trailer with pull-out ramp. Holds standard gauge or narrow gauge with additional rig. Manual winch. Near new tires, with spare (never been on the ground). Additional photos available. Asking $1,500. Contact Dave Elwood 505-994-0089 or text 505-382-0379. Rio Rancho (Albuquerque) NM.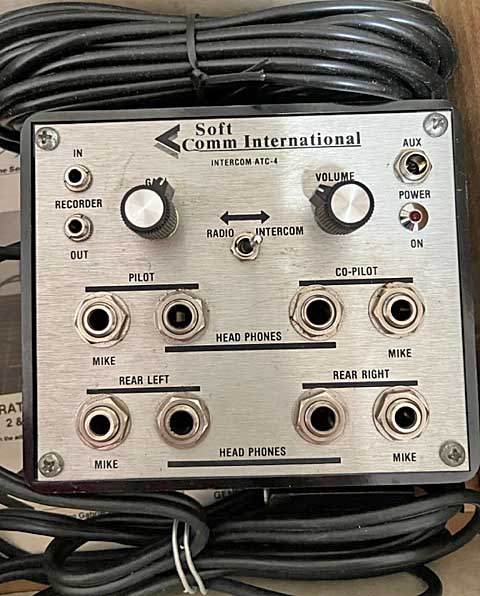 ---
FOR SALE (Oct 19) NM - 5 "as new" Fairmont wheels. 16" x 4-1/2" x 5/16". Perfect profile as per NARCOA profile gauge. $800 for all 5 as a package deal. You arrange shipping. Contact Dave Elwood 505-994-0089 or text to 505-382-0379. Rio Rancho (Albuquerque) NM.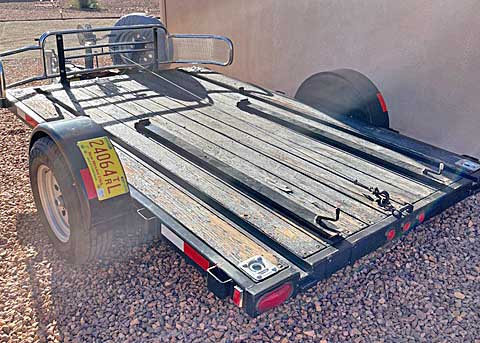 ---
FOR SALE (Oct 19) PA - Various Parts -
Pontiac Buz coil Good condition 12 or 6 volt $95.
Two used Fairmont wheels fair condition $195.
Lights "match set" all for $50. For more information call Jack Boorse 267-750-8320.
---
WANTED (Oct 14) ME - Speeder in good condition. NARCOA-ready located somewhere near the
state of Maine. Trailer and turntable desirable. Please contact John Kilbourne, 207 729 7398, address 760 Mere Point Rd., Brunswick, Maine.
---
FOR SALE (Oct 6) MB - Fairmont MT 19B - Narcoa ready, Onan B48GGA c/w manual, 2 speed trans, hydraulic turntable, astro radio with 2 headsets, 2 seats spare parts: 4 wheels 16", new fuel pump, card kit, points, 4 brake shoes, twin drive chain. New axle installed with twin chain 2010. Runs very well. Owned since 2010. Asking $7,800 US. Also have a custom built trailer $1,100 US Paul LaFreniere 204-233-6200, Winnipeg, Canada
---
FOR SALE (Oct 6) CA - NARCOA ready MT-14 with: CCKB engine that has "Y" type exhaust; factory hydraulic turntable—lifts higher and faster than any electric turntable; foot clutch; electric fuel pump; six gallon gas tank; great paint job; polished aluminum trim; three lockable tool boxes; ditch lights; flashing brake lights; reverse gear indicator light; four seats with arm rests; complete curtain set; sound insulation; classic set-off skids; plus battery jumper lugs and battery cut off switch at rear of car. $11,500. Car located in Simi Valley, CA. Please contact Wayne Parsons 818-631-4805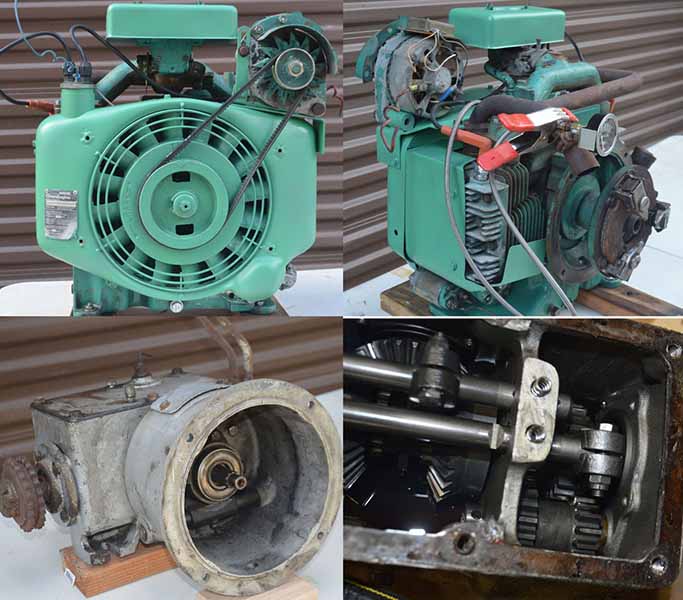 ---
FOR SALE (Sep 30) AZ - M19F-1 1948 Fairmont ROC. NARCOA ready- with trailer - Trailer has been coast to coast (spare hub and spare tire) Railcar has been mine for 7 years. Last run was in CO on the Creede Run, 3 years ago. more photos available and past action videos on You-tube (search "Pendclocks") Have birth papers and manuals. Asking $2,000 call Ken Saunders: 623-825-7105
---
FOR SALE (Sep 22) MI - Spark Coil Testing Device plus Pontiac Coil This Spark Coil Testing Device is a must have to accurately adjust your spark coils to the recommend output of .0.98 AMPS. Simply connect the coil to one end of the device and a 6 volt battery to the other end and flip the switch. The AMP meter will show the output AMP draw. At this point adjust the coil points to achieve the desired meter reading of approximately 1 AMP. In addition to the Spark Coil Testing device a Pontiac Coil in excellent condition and coil adjustment instructions is included. Package Price, $165.00 plus $10.00 priority shipping in the lower 48 states. Tom Kasinec, (269) 323-3102.
---
FOR SALE (Sep 22) NV - New Fairmont pressed wheels 16 X 5/16 X 4 ½. Never been used, some light surface rust. Located outside Carson City, NV. $225 each or 4 for $800. Pickup only.Kim Robinson – 775-690-4882 (biz cell)
---
FOR SALE (Sep 20) WA - "Too much fancy" is the name of this little iron goat. The frame up restoration was started in 2007. Then there was about 5 years of working out the bugs and adding stuff I thought were cool and would add functionality to this car. It has about 600 hours since restoration. I will be working on more photos and descriptions I can email.because there is so many details it's taking longer then I thought. I have had it insured as high as they go with the standard policy which is 20k. So I will start there. I will consider any offers over 20k. Jerry Hixson, Box 162, Carlton WA 425-870-0811
---
FOR SALE (Sep 20) PA - 1997 Ford F-350. Crew cab, long bed, 4x4. Canadian build, has 191k kilometers. 351 V8, 5-speed. Currently PA State inspected (very strict inspection). Tons of new parts and work done to it this year, including brand new aluminum flatbed and brand new tires. I've put over 200 rail miles on it this summer. Located in Sandy Lake, Pa. Call Sid Walker at 724-988-9264.
---
FOR SALE (Sep 20) TX - Fairmont Motor car parts:
2. Two OEM Fairmont seats slightly used. These are the number 3 and 4 seats for my MT14. They have only been used a few times. Brand new these seats sell for $210.00 each. Asking $325.00 for the pair of seats plus actual packaging and shipping costs. I will not sell separately, only as a pair.
3. Clutch disk and pressure plate for Fairmont MT motor cars. Parts have approximately 130 miles on them. $175.00 plus actual packaging and shipping costs. Clutch disk 4-18954, Clutch pressure plate F16342
If you will be attending the RPI Blacklands excursion on October 7th and 8th or the RPI Fall excursion in Llano on October 28th, I can deliver free of charge. Free pickup from Dallas, TX area. Michael Businger - 972-689-9114. Items are located in Frisco, Texas.
---
SOLD (Sep 8) ON - Former CN Handcar "Inspection Vehicle No. 135". I rebuilt it about the 25 years ago and it's in excellent shape. Always stored inside. Babbitt bearing for the yoke and big gear, bronze castings for the connecting rod and tapered roller bearing for the axles. All in great condition. I also have the rare center bearing castings (goes beside the little gear supporting the drive axle) but I have not installed it. Kalamazoo wheels have very little wear and a handcar pro identified all the castings as being from (or copies of) Buda. Asking $8,500 US. I'll throw in a flagman's kit so everything is complete. The car is located in Ontario, Canada and pickup only.
---
FOR SALE (Sep 8) ON - Fairmont MT-19 with an Onan CCKB-MF and two speed transmission. Former CN 137-22. Smooth runner - NARCOA compliant. No turntable. Comes with Soft Comm intercom, suspension, manual, excellent wheels / brakes, eight spare wheels and I'll even throw in a flagman's kit. Asking $3,000 US. The car is located in Ontario, Canada and pickup only. More pictures on request. Thanks, Mike Snetsinger
---
FOR SALE (Sep 7) ON - CN Fairmont MI19 with rebuilt CCKB Onan engine 2 speed transmission new gas pump new alternator new set of brakes new wiring and lights new gas tank new windows all around NARCOA ready Asking $3,500 US OBO for more info contact me via email Pierre Dominick
---
FOR SALE (Sep 7) CA - Fairmont MT-14L, comprehensive high quality resto/mod completed Fall 2016. Cab soda blasted and painted, all seating replaced, safety belts, engine tunnel and center overhead raceway clad in oak. Replaced or installed the following components with new: batteries, wiring, fuse block, battery kill switch, led tail and stop lights, halogen headlights, amber roof beacon, caboose lights, stainless gas tank, roof horn, Motorola radio, 2 position intercom with headsets, window glass and moldings, locomotive side mirror, carburetor, foot clutch, Stewart Warner gauges, and more. The car has a sound reliable Onan engine and transmission with good wheels and brakes. Also included is a custom built short wheel base trailer with wireless remote operated wench with its own battery, newer tires, a spare, tool box an a well equipped "break down" bag, birth papers, parts catalog and owners manual. This car meet and or exceeds all NARCOA specifications and requirements. Asking $15K-all reasonable offers considered. Will not accept any Nigerian bank transfers or off shore negotiations. Contact Fred Dorman Valley Springs Ca. (209)772-0742 E-Mail
---
FOR SALE (Sep 7) KY - MT-14. This 14 is a great car. Has FAIRMONT spring suspension, Wilber automatic transmission with Vanguard engine, Hunter heater, Intercom, Optional 3 chime airhorns . Car also has sound deadening, led lighting, new fuel tank. Car will serve you well for years. Only selling because I have to many cars! Jaime Samuell, Franklin Ky cell 606-748-4443, $13,500.



---
FOR SALE (Aug 25) ON - Fairmont A3 with 4 cylinder Waukesha engine. All new wood and metal was body was sandblasted and painted. Asking $6,000 US with free delivery to Buffalo, NY or Detroit, Mich. Delivery from there can be arranged for a fee payable in US money. The A3 is located in Ontario Canada More pictures are available. My mechanic says engine runs nice and new 16" wheels. Professional vinyl curtains were made and I have a Waukesha and Fairmont manuals included. John Brown 1-705-538-1196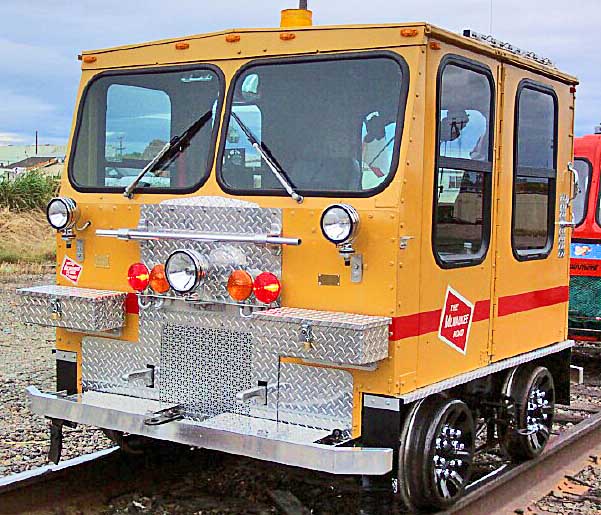 ---
FOR SALE (Aug 25) SD - MT 19A3 Fairmont rail car BN-1231-M shipped out to Bradshaw, NE on 11-1-1984. NARCOA TRACK READY ONAN CCKB-MF/3393J with Les King embroidered seats, travel cover, and wiper motors. Les King – Bill Mark turn table – David Clark communication equipment with NEWMAR PC-Filter – with radio interface adapter - Motorola Spectrum radio for receiving, not transmitting (all three NARCOA channels). Rail car trailer with 12V winch, Aluminum tool box, and spare tire. Extra 129118E Gasoline Heater not installed. $5,000 rail car only with trailer $6,000 DavidClark system $2,000 Heater $250. Call Rodney Melcher 605/939/6202 Black Hawk, SD.
---
FOR SALE (Aug 16) FL - Fairmount/Harsco Manual Rail Gear. HR1000A Rail Gear. Fits most vehicles from jeeps, Tahoe's to small pickups. Gear will come with: Install brackets to fit 1996-2000 Dodge Dakota 4X2 or 4x4 regular or club cab and 1998-2000 Dodge Durango 4x2 or 4x4. Both polished aluminum bumpers and all brackets, Tow bar with tow bar attachments on gear. All hub bearings on gear have been replaced and rail wheels are rubber and perfect. Front and rear diamond plate covers with gear inspection LED lights and front LED fog lamps. This is manual gear that is aluminum, it is tight and rides great. $1,500. For questions, call 800-763-4589 Ext. 101 Brett Falicon
---
FOR SALE (Aug 13) IA - Canadian National MT-14 - I've had this car for 10 years. NARCOA compliant. Runs well. Engine was gone through in 2009. I did not run the car in '12, '13, and 2016. Car has an electric turntable, suspension, intercom for 2+, air horn/tank/compressor, and 3 seats. Included also is a trailer with battery/electric wench, Fairmont manual, and CN maintenance manual. Please contact me with any questions. $5,900. Veronica Hamly, 218-355-0023, Iowa City, Iowa 52240
---
FOR SALE (Aug 10) CA - MT-19 - electronic ignition, suspension kit, electric turntable, narcoa approved radio, three intercom sets, air horns, beacon, custom built 'speeder' tilt trailer, electric winch, extra clutch, and on. To run this car on the rails is like driving a Porsche, fast and responsive. Available after the October Coos Bay run for pick up in Southern Oregon, car is currently in Palm Desert, CA. Lots of photos available, $7,500. Blair Van Vliet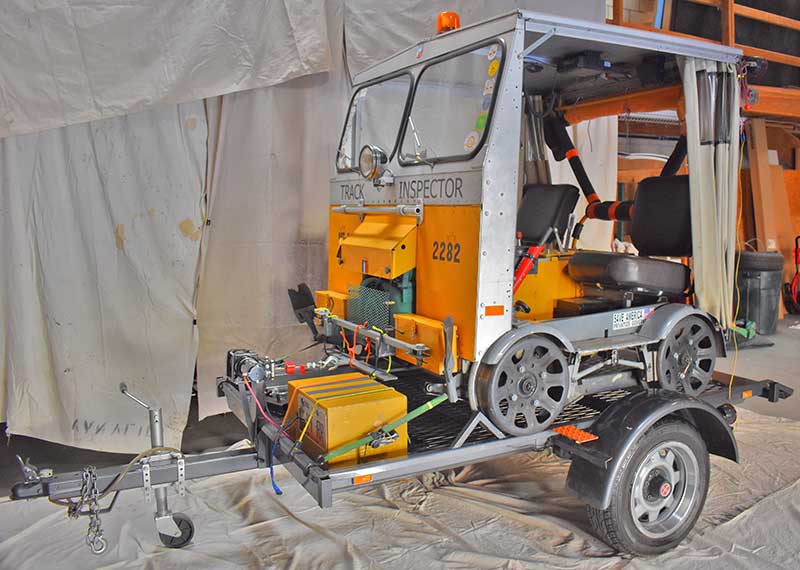 ---
FOR SALE (Aug 8) NV - MT19 - Carson City, NV. UP car NARCOA compliant since 1998, runs great. Has CCKB engine, hydraulic turntable, sliding side and back windows. Fairmont seats as well as a jump seat on the passengers side. Removable sanders for those winter runs. Radio is wide band so is receive only, but could be easily replaced with narrow band rig. Has aircraft intercom and headsets. Diamond plate tool boxes come in very handy and KC lights will give the guy in fount of you a sun tan. Last used on the Montana run last June. $10,500. Kim Robinson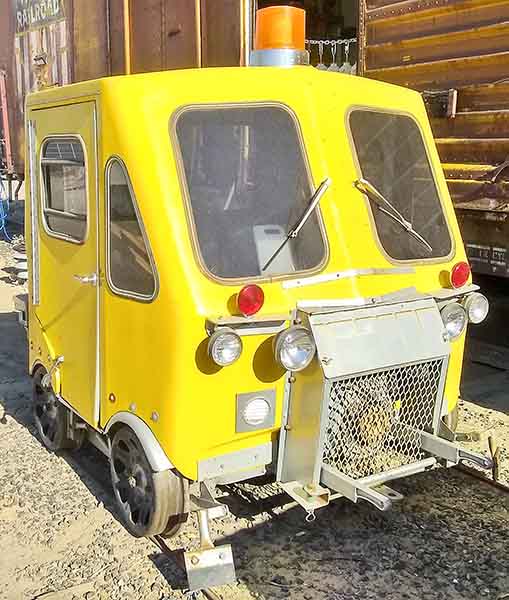 ---
FOR SALE (Aug 8) CA - Fairmont A4. Excellent condition. 4 cylinder Ford tractor engine. 4 speed transmission with reversing rear end. Seats 4 comfortably. Tailored side curtains clip firmly to the frame with zipper center access and a zipper flag opening. Head and tail lights with brake light are installed on front and back to give proper lighting for movement in either direction. Large capacity metal storage box fits across the back. Unique specially designed turning wheel arrangement connected to the rear lift handle allows the A4 to be turned around on any hard surface crossing with a minimum of manual effort. High lift jack is included. NARCOA ready. Tandem axle trailer with high capacity electric winch not included but can be available for an additional $2,100. $6,800. Contact: Ed Best, Alamo, CA
---
FOR SALE (Jul 7) PA - 1996 Ford Bronco with 0307 Hirail gear. Locomotive horns and bell, heavy duty electric air compressor, rotating beacon, Icom radio, alternating flashing headlites, back up alarm, NARCOA compliant. 200,000 miles but still runs and handles great. Burns no oil. NO RUST This vehicle came from Florida and is featured in the NARCOA brochure. Asking $6,500 OBO. John Kook 610-323-7132,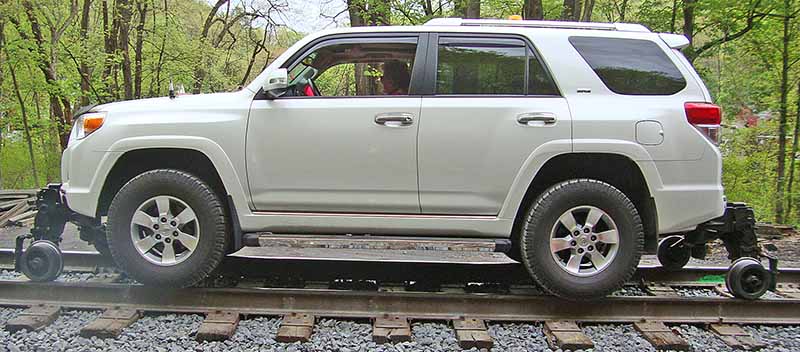 ---
FOR SALE (Jul 3) GA - Kenwood TK-2160, handheld, 16 channel VHF radio. Radio is programmed with the three NARCOA frequencies and the seven weather frequencies. Six empty channels available. Includes charger, speaker/microphone, belt clip and owner manual. Also includes shoulder holster style carrier (USH-300L). Not recommended as primary radio for motorcar, but excellent for excursion coordinators, assistant EC's, or any others that need to or want to be able to communicate while away from motorcar. Price for all is $175, including shipping by USPS Priority Mail. Barry Vincent in Blue Ridge, GA.
---
FOR SALE (Jul 3) GA - Complete Avionics intercom system (ICS):
· Sigtronics Transcomm II ICS SPO-22
· Softcomm c-40 Headphone
· Aviation Comm ac-200 Headphone
$150 plus 15 for shipping. Paypal preferred

The ICS is a two channel device with external audio out and in for external music, tape etc. It is battery and or 13vdc powered. Is has separate inputs for radio push to talk. This unit is standard General Aviation and will interface with just about any LMR (land mobile radio) including most Handy Talkies. The ICS is missing a volume control knob, but you really never use it because the headphones have their own separate controls. I also have a few more ICS's, 4 channel and two channel plus additional headsets. I am a retired Electrical Engineer and Avionics Technician, Please feel free to call or email me if I can help with any questions on installation of your radio, antenna or intercom system !! David Ball
---
FOR SALE (Jun 29) BC - "Modern Track Machinery", Ex-C.P.R., Very Rare, only ten built! Possibly only one of two still operating. Fully restored in 2001 but never operated on rails. Motor runs Excellent! , Factory Turntable, 22hp Onan, 1670lbs., Jeep Hinges on Doors, Custom Trailer Single Axle. No radio equipment. NOTE: If you don't want the trailer, you can subtract $1500, W/Trailer, $4,000us funds, (O.B.O.) Serious buyers only. Cash preferred, Pay-Pal accepted as well. Also, I can transport it across the Canadian border if you are from the U.S., omitting the Border Paperwork. I purchased it as "Scrap" from CP and it still remains that way. I can only do this if the trailer is not part of the sale as it is registered..
*No Foreign Buyers ie; (Spammers) Need Inquire!* ...Canadian & U.S. Citizens only!! Mike Bellefontaine.
---
FOR SALE (Jun 26) BC - Woodings CBI Very nice Motorcar powered by 18hp V twin Briggs Narcoa Ready has Motorola radio with all Narcoa & AAR railroad frequencies wheels and brakes in excellent condition only selling due to health problems asking $6,700 US Call for more photos. Cal McMurray (604) 809-5878 Located Abbotsford, BC, Canada
---
FOR SALE (Jun 26) CT - 1949 Fairmont M-9 Former NYC car. Les King seats, New Battery, good wheels, NARCOA ready, extra buzz box. Runs great. A fun car for those summer runs. Housed in a heated garage. $3,600 Will deliver within 240 miles of 06484 in CT. Jeff Zeleny, Shelton, CT 203-218-9576

---
FOR SALE (Jun 18) NH - M19 (ROC engine) ran last season in 2016. NARCOA ready except towbar and first aid kit. Stock except has extra wide deck extension and back support. Mechanical 9, cosmetic 2. $1,950. Mike Heaton 603-887-3272. Located in southern NH. Call for more pictures.
---
FOR SALE (May 19) FL - Former ATSF MT19, Engine IS in excellent running condition, NARCOA compliant, new gas tank, all lights work, good chain, Motorola MCS 2000 radio and antenna, complete set of curtains, Fairmont style seats, front wheels like new, back wheels 1/32"wear, lots of miles left, 2 spare Fairmont wheels. Reduced to $3,700. OBO. Lots of excursions still available this year. Custom built single axle easy loading tilt trailer, with 2 new tires, 2 spares available. Please email Jay Boggs for more info. updated 9-27-17
---
WANTED (May 19) ME - Idler arm needed for M14-D - looking for a good used or new old stock flat belt Idler arm for a 1932 M14-D. Bill Catanesye, 127 Heath Brook Drive, Actom, ME, Phone: 207-636-3842
---
WANTED (May 6) VT - MT14 suspension. I have heard that suspension kits were developed for the MT14 and would be interested in buying one of these either used or left over new. I am in the middle of a frame off rebuild of a MT14 CN Pumpkin car. Tom Sopchak (802) 578 - 7427.
---
FOR SALE (Apr 26) WA - Union Pacific S-2 'flat top': $1800. Fairmont built in 1956. Have history card. Mechanically fit and NARCOA ready-to-roll. Car taken apart to replace and make new. 6-volt with generator. Pull any grade. Car located 30 miles North of Seattle, WA. Bruce A. Ferguson PRO 360-568-5424 Snohomish, WA 98290
---
FOR SALE (Apr 26) WA - Fairmont 'flat top'. $2600. M-19 speeder that is mechanically fit and NARCOA ready-to-roll. Car taken apart to replace and make new. Zero track time. Included in sale will be extra engine for rebuild. [no carb]. Car located 30 miles North of Seattle, WA. Bruce A. Ferguson PRO 360-568-5424 Snohomish, WA 98290
---
FOR SALE (Apr 26) CO - Nolan cast wheels and axles. Nearly new, just enough miles to wear some paint off. Very heavy duty, rated at 10,000# per pair. Was going to put them on my push cart but not sure I want the extra weight, 238# each. New $1,700 each. Asking $2,200 for the pair. Brian Delaplaine located North of Denver.
---
FOR SALE (Apr 13) CA - Fairmont Harsco 307 Hi-Rail gear. This equipment was mounted on a 1992 Chevrolet C2500 pickup as pictured. This ad is for the hi-rail equipment ONLY. NO TRUCK. The equipment has been dismounted from the vehicle. It will bolt right up on most 90's vintage Chevrolet and GMC trucks and Suburbans with the existing brackets. You could also buy new brackets for countless other vehicles. Come with four narrow track extra tall wheels and tires for 8 lug on 6.5" GM bolt pattern. Also includes the lift bar and steering wheel lock. This gear never once saw the rails! This is located in the SF Bay Area, CA for local pickup or you pay truck freight. Delivery in Northern CA negotiable. Asking $2,600. Call Greg David at 650-969-4867.
---
FOR SALE (Apr 13) CA - Pair of MT 19 railcars. The first is a former Northwestern Pacific, powered by an Onan CCKB and painted to resemble an SP cab forward locomotive, an imaginary last of its kind, #4295. This car is equipped with a vintage headlight as well as two led headlights for night time running. The car has marker lights front and back, a bell, a working steam whistle, two sanders, authentic locomotive-type instruments and a Les King turntable. The seats are brown vinyl embossed with the "Southern Pacific Lines" logo. The brake handle is fashioned from a locomotive brake handle. The car has a Kenwood, FCC compliant radio, programmed with NARCOA and PRO frequencies as well as weather. It also has a David Clark intercom system with two headsets.

The second car is an unpowered MT 19 "baggage car." This car has front and rear windows, a wiring connector to provide marker and brake lights and hasps to allow locking the doors.

Included with the rail cars is a tandem axle trailer with an electric Warn winch, set up to haul both cars. The trailer has brand new tires. These cars are NARCOA compliant and ready to go! Lots more photos available on request. $8,500. Contact Rich Gunn, Wilton, CA 95693, 916-955-8510,

---
FOR SALE (Apr 10) WA - Fairmont speeder, type unknown. has big popper engine on a M-14 frame and what looks like a reversing mechanism. Needs brake assemblies. $1,200. obo. Available in Richland, WA. Ben Amodeo, 509 539 2096
---
FOR SALE (Apr 10) NY - Fairmont/Onan parts forsale. -
Onan cckb and b48g engine tool lot
1) Onan 420-0531 Drive handle
2) Onan 420-0537 Valve guide driver
3)Onan 420-0536 Seal remover plate (for front and rear crankshaft oil seals)
4) Onan 420-0538 valve guide installer
5) Onan 420-0539 crankshaft seal installer
6)Onan 420-0540 crankshaft seal expander
7) Onan 420-0541 crankshaft seal installer
8) Onan 420-0542 crankshaft/camshaft bearing installer
9) Onan 420-0543 crankshaft/camshaft bearing remover
10) Onan 420-0545 rear cam bearing installer
11) 5 Onan 420-0342 ball drivers
12) Onan 420-0544 valve guide installer
13) Onan 420-0535 special shoulder bolts for removing crank shaft gears.
These are hard to find and expensive tools.. Selling as a lot $300
1) NOS Onan cckb block $350
2) Fairmont MT clutch kit. (Includes clutch pressure plate Throwout bearing and hosing and return spring)$175I also have a Large stock of Fairmont MT Transmission and Onan engine parts to many to list most new if your looking for some think I most likely have it. Paul Sternitzke, 845-857-4646 Oneonta, NY
---
FOR SALE (Apr 10) NY - 3 rebuilt Fairmont 2 cycle engines..
1 Fairmont ROC
2 Fairmont ODB
3 Fairmont ROB
Engines were completely rebuilt with new parts all are $750 ea. Pictures on request. Paul Sternitzke, 845-857-4646 Oneonta, NY
---
WANTED (Apr 6) MI - Fairmont TH1 or TH2 highway trailer; the TH1's were the lighter duty trailers and were meant for track inspector cars while the TH2's were heavy duty and meant for heavier cars like gang cars. Thanks! Feel free to call/text Aaron Farmer at (248) 808-1329.
---
FOR SALE (Apr 5) ON - Fairmont MT19 Motor car (ONAN Engine) & trailer with wench. $6500.00
Edgar Sandham 519-777-7355
---
FOR SALE (Feb 23) IN - Thinning out collection. M through A's. David Staggs 812-545-9684. Located southern Indiana.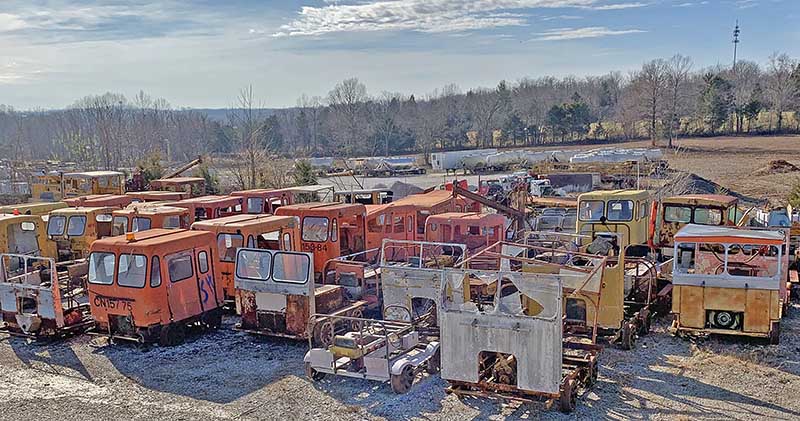 ---
FOR SALE (Feb 17) PA - M19 Motorcar with aluminum front and top. This car is in pieces with no motor, no glass, no real concrete history. Was last used at the beginning of the Adirondack Railroad, but unknown where it came from prior to that. Wheels seem to be NARCOA compliant, but use your own judgement. Main frame of the motorcar and the axles/suspension seem to be in good shape. Will not part out, I want to sell to someone who will put it back together. Too many projects, don't want it to sit for 20 more years. Asking $600. Sid Walker 724-988-9264, Sandy Lake, PA
---
FOR SALE (Feb 14) AZ - ATSF 1957 S2 - Powder coated, engine gaskets, belt, electronic spark box, brake blocks, alternator, wiring, battery, muffler, spark arrester, electric jack, info plates, upholstery, windshield all new. Never run on rails as I have no time. 2nd ST2 to rebuild or use for parts. $5,000 for both or none. Bob Hewitt in Arizona at (602) 679-4763
---
FOR SALE (Feb 9) CO - Brackets for steps on the each side of an A-6. Could possible work on other cars/pushcarts. Asking $200. Located in Frederick, CO (north of Denver, CO) Brian Delaplaine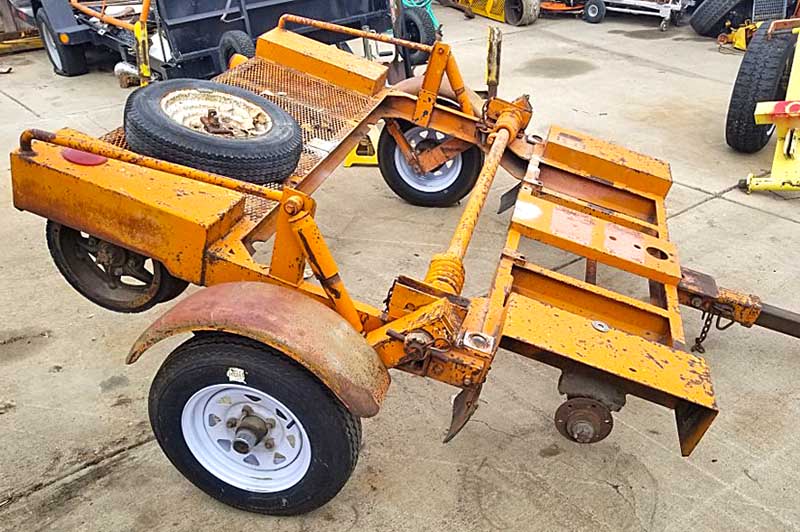 ---
FOR SALE (Feb 3) MO - Woodings CBI -Price Reduced, Need to get sold, reasonable offer will be considered. Full disassembled restoration 90% complete. Needs body work finished, fiberglass cab has all the glass work done, a little putty and paint to finish. Everything except engine, has been rebuilt, repaired, or replaced. Engine has carb rebuilt, new fuel pump, and good tune up. Factory manual, parts list and other documentation. Has factory turn table, New gas tank, dash , gauges, brakes, lights, air horn, alternator, seats, belts, LED lights, wiring, lift handles, etc. Have shelves of spare parts, complete rear axle, wheels, transmission gears, one new set of gears for a series 8, 3 heaters, Woodings factory turn table, in addition to the one in the CBI, wire harnesses, brake assemblies, gas tank, new unused track flag set, glove box, window seals, clutch parts and belts, doors. Located in SW Missouri, approximately 30 miles west of Branson. Asking $5,500 OBO Call Ed Hoefler at 417-858-0338
---
FOR SALE (Jan 26) MI - Service Instructions and Parts List for M19 and MT19. Pages are enlarged to 8.5" X 11". Pages are in sheet protectors, in a 1" binder. M19 manual is 86 pages, includes Blue prints of the ROC engines. MT19 manual is 43 pages. Manual covers the Car and Transmission ONLY. Does NOT cover the Onan engine. Manuals are $50 Each + Shipping. Starting Crank for M14, S2 engine. $125.00 +Shipping. Located in SE Michigan. Phil Hines, PO Box 851003, Westland, MI 48185
---
WANTED (Jan 15) BC - Fairmont MT-14M Manual. If you have one for sale or know where I can get one, please contact me by email. Greg Haider
---
WANTED (Jan 5) LA - Affordable Woodings. Any condition considered. Prefer a project car but would like to hear about anything if the price is reasonable. If you have one or know of someone who does please give me a call or email. Don Stamper, Shreveport, LA 318-773-9693
More Stuff
CLICK HERE to continue to the Motorcar Parts & Accessories Page